Cathay Pacific Group narrowed its losses for the six months to 30 June on the back of a significant jump in passenger travel revenues, despite what it calls a "particularly unfavourable" operating environment at the start of the year.
The Hong Kong-based airline group also expects a "stronger" financial performance in the second half of the year, as the city slowly eases onerous travel curbs.
For the six-month period, Cathay Pacific Group posted an operating loss of HK$1.3 billion ($166 million) during the period, an improvement on the record HK$5.4 billion loss it posted in the first half of 2021.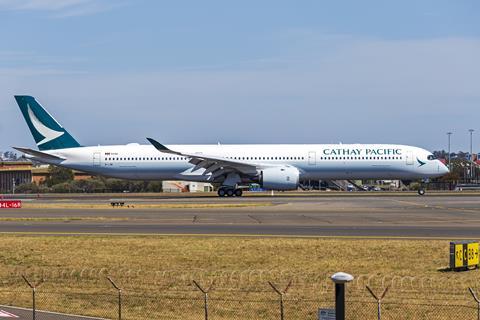 Total revenue rose 17% year on year to HK$18.5 billion, with the sharpest increase seen in passenger services, which leapt nearly three-fold to about HK$2.1 billion.
Mainline operator Cathay saw passenger numbers during the period double to 335,000, with traffic increasing more than two-fold year on year. Capacity, meanwhile, shrank 27%, which led to a 40-percentage point increase in load factors, and a 21% rise in yields.
Group expenses fell 2.1% to HK$21.2 billion, with non-fuel costs falling 4.9%. Fuel-related expenses, however, rose nearly 55% year on year.
The group reported a net loss of about HK$5 billion, compared to 2021's half-year net loss of HK$7.6 billion.
In comments posted alongside the financial results, Cathay chairman Patrick Healy says the airline group has had an "extremely difficult start" to the year, when Hong Kong tightened travel curbs amid a surge in infections caused by the Omicron variant of the coronavirus.
At the start of the year, the city government, in keeping with a 'zero-Covid' strategy, banned flights from several key Cathay markets – including the UK, USA – restricted transit and transfer services, and tightened quarantine rules for Hong Kong-based crew.
"These restrictions resulted in a particularly unfavourable first few months of 2022 and we significantly reduced our passenger and cargo flight capacities," says Healy.
Hong Kong has since eased some of these curbs, including flight bans and the length of quarantine, a move that Cathay welcomes.
"The progressive adjustments to these restrictions from 1 May were positive developments. Adjustments to the testing and quarantine requirements for Hong Kong-based aircrew enabled us to progressively resume flights to more destinations in May and June," states Healy.
He reiterates the airline's operational projections of about 25% passenger capacity by year-end, with cargo capacity expected to hit 65% pre-pandemic levels.
And while Healy says travel sentiment is expected to lift with the slight easing of curbs, he called on the Hong Kong government to do more in lifting the "stringent" restrictions.
"While we are fully committed to supporting our home city, our ability to operate more flight capacity continues to be severely constrained by a bottleneck on crewing resources under the existing quarantine requirements. We will only be able to operate more flight capacity when the existing stringent travel restrictions and quarantine requirements applicable to Hong Kong-based aircrew are lifted," he says.