A Cathay Pacific pilot union has urged the carrier to "return to market driven employment terms" in order to retain and re-enlist pilots who have left, amid allegations that the airline "stands unprepared" to fully recover operations as the city's travel restrictions begin to ease.
A statement from the Hong Kong Aircrew Officers Association (HKAOA) also urges the airline to start "making the pilot group a part of the decision making".
The association adds that the airline is facing "unprecedented" staffing and training shortages, which will take several years to redress and lead to a prolonged shortfall in flights and higher airfares.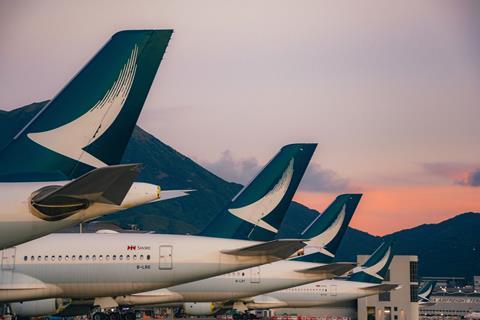 According to the HKAOA, which represents a majority of Cathay pilots, the airline now has less than 2,500 pilots, a figure well below the 4,000 cockpit crew it employed before October 2020, when the airline underwent massive restructuring that saw thousands of roles made redundant, including pilots.
Many pilots have also resigned from the company, citing "dissatisfaction with [airline] leadership, triggered by a ruthless permanent reduction in pay and conditions of service, unilaterally enforced on the frontline staff".
The HKAOA notes that resignations are "particularly concentrated" among the airline's senior pilots, most of whom have "decades of experience" flying with Cathay.
The union also alleges that the airline has cut off ties with it, amid pilot dissatisfaction.
It states: "[Cathay] management has struggled to maintain pilot morale further by electing to break its relationship with the HKAOA, a partnership which has served the airline and its pilots well for nearly 60 years."
Association chairman Paul Weatherlit adds: "Imposing permanent and extreme reduction of employment terms on all the frontline staff, as well as cutting off any negotiations with the HKAOA, will rank as one of the costliest management errors in the history of Cathay Pacific."
While it notes that the airline has begun hiring, including rolling out cadet pilot programmes, it says "training young and inexperienced pilots is a slow process" where it is difficult "to take shortcuts".
"The HKAOA is concerned that the airline's deserved reputation for high quality training will be in direct conflict with the commercial pressure to recruit and train hundreds of pilots quickly," it adds.
Responding to FlightGlobal's request for comment, Cathay downplayed notions of being understaffed, stating that the airline "has sufficient qualified and experienced aviation professionals" to support its operations currently.
The carrier is working to train and re-qualify cockpit crew – with a training plan that "fully complies with the requirements of all authorities" – and notes that the process "takes time to address even after the lifting of all operating constraints".
Cathay also responded to allegations of pilot pay, stating: "We believe our contracts for pilots are competitive contracts, which have enabled us to successfully recruit and retain the very best people to be our pilots as we rebuild our schedule."
The HKAOA's statement comes as Hong Kong begins to roll back on punitive pandemic restrictions, including removing hotel quarantine for incoming travellers, as well as lifting flight bans.
The airline in mid-September revised upwards its capacity forecast for the end of the year, to about one-third pre-pandemic 2019 levels. It, however, warned that a full recovery "will still take some time", citing "operational complexities".
Airline chief Augustus Tang in June told FlightGlobal that the group was looking to hire for up to 8,000 roles, of which around 4,000 will go to mainline carrier Cathay, while the rest will be spread out across subsidiaries, including Air Hong Kong and low-cost carrier HK Express.
Tang did not say how many axed staff members will be rehired, but said then that the airline had reached out to all former staff who have indicated their interest to be rehired.
In its latest statement, the airline says it has restarted recruiting locally-based pilots in 2021, including 200 "eligible, qualified pilots" for Cathay.
It is also looking to hire 700 pilots by 2023, of which 300 would be direct-entry pilots and 400 would be cadet graduates joining as Second Officers.
Story updated with statement from Cathay.