Cathay Pacific has revised upwards its capacity forecast for the year-end as Hong Kong eases travel curbs, though the carrier – citing "operational complexities" – warns that a full recovery "will still take some time".
In traffic results for August, the Oneworld carrier is projecting capacity by the end of the year to be about one-third pre-pandemic 2019 levels.
This compares to a July forecast, where the carrier only expected to restore 25% of pre-pandemic capacity.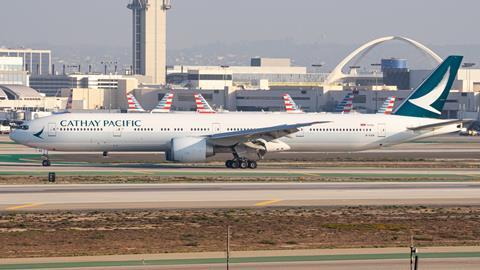 It comes as Hong Kong continues to gradually lift several restrictions in recent months, including requiring Hong Kong-based crew members to quarantine upon arrival, as well as lifting flight bans from several regions.
These measures have lifted Cathay's August traffic, with the airline seeing a 15% increase in passengers against July, to around 254,000 passengers. It marks a year-on-year increase of around 88%, but was just about 9% pre-pandemic passenger numbers.
Traffic was up 83% against a lower base last year, while capacity rose 23.5% year on year. However, Cathay notes traffic was only just 14% that of 2019, with capacity about 16% pre-pandemic levels.
The airline notes that inbound traffic to Hong Kong during the month – especially from the USA, Canada and Europe – had risen, while operations to Mainland China "remain restricted" as several cities were put under lockdown.
Cathay chief customer and commercial officer Ronald Lam singles out the USA market as showing robust recovery, noting that load factors averaged around 80%.
He adds: "Student traffic from the Chinese Mainland to the US represented a significant portion of our passenger traffic last month. Apart from student traffic, our US routes were also boosted in the other direction by transit traffic travelling to Southeast Asia, the result of greater connectivity from increased flight frequency."
Demand from North America will continue to remain strong through the year-end, notes Lam. Cathay also expects traffic between Australia and New Zealand and other parts of the network to increase during the same period.
"We intend to add about 200 pairs of passenger flights in October, primarily to regional destinations such as Osaka, Seoul (Incheon), Bangkok, Kuala Lumpur and Manila, and also to long-haul destinations such as Vancouver, Sydney and Melbourne," says Lam.
He adds: "While we will continue to add back more flights as quickly as is feasible to strengthen the network connectivity of the Hong Kong aviation hub, this will still take time as we build operational readiness and undertake a substantial amount of training and aircraft reactivation."
"This, combined with other operational complexities, means that capacity can only be increased gradually over a period of several months," Lam says.