The coronavirus outbreak may be costing the aviation sector more than the Severe Acute Respiratory Syndrome (SARS) did in 2003, even as the world is just coming to terms with the new strain.
"China is a larger part of the global economy and global airline traffic than in 2003," notes Joanna Lu, Ascend by Cirium's head of consultancy for Asia.
With China's airlines carrying up to 10 times more passengers than they did then, the impact on air travel will be far greater and on a global scale.
"In 2003, the worst [monthly] impact was 80% reduction in Chinese airlines and a 45% reduction in [Asia-Pacific] traffic. If this happens today, this implies a fall in global traffic of around 10-15%," says Lu.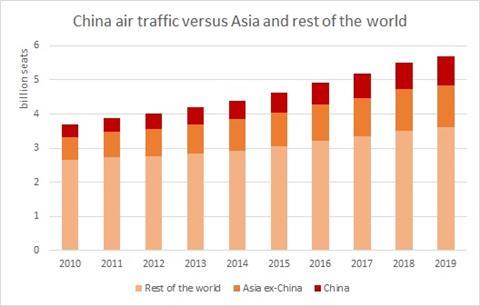 Contagion fears have put global travel on hold, while discussions around quarantines and border control run counter to the tourist experience, the main driver of air travel.
The sense of uncertainty has only been heightened by images of Macau shutting its casinos and the curtailed activities at events of large economic value, prominent examples being the Singapore air show and, possibly, the Olympics in Tokyo.
SARS was estimated to have impacted the travel industry for up to half a year, and that appears to be a reference point for airlines and the broader aviation industry.
Cebu Pacific recently put a figure on the coronavirus outbreak's impact. It expects to take a Ps3-4 billion ($59-79 million) hit to full-year profit if the situation persists for six months, an estimate given in the context of a Ps8.9 billion operating profit in the first half of 2019.
"We can't forecast because the situation is escalating so fast," Cebu Pacific's chief executive Gokongwei told The Philippine Star.
"We just had an update regarding [the eruption of] Taal volcano three weeks ago and then now, there's a change in forecast. People don't want to travel."
SHUTTING DOORS ON CHINA
The fact that Wuhan is a central transport hub has quickened the spread of the coronavirus, and the number of cases outside of mainland China has been rising fast.
Japan, Singapore and Thailand now have the highest numbers of coronavirus patients outside mainland China, and locally transmitted cases have emerged. This supports the thinking that the virus is highly contagious and that human-to-human transmission is possible.
Most Asian countries have responded with increased border control and travel restrictions. This includes major travel hubs and popular tourist destinations, such as Singapore, Malaysia, Indonesia, Thailand, the Philippines, Vietnam, Australia, New Zealand, Japan and South Korea.
Key measures include turning away visitors of any nationality who have been in mainland China with the past 14 days, a duration believed to be the coronavirus's incubation period.
Some have implemented more targeted measures aimed at citizens from Wuhan, Hubei or China. In the case of Mongolia and the Philippines, for example, this extends to the Chinese territories of Hong Kong and Macau.
"Governments' actions clearly have sent a signal of high risk of travelling to China to their travellers," says Lu.
With the memories of SARS still vivid, some have responded irrationally, even to the extent of xenophobia. In the Philippines, Malaysia and South Korea, for example, there have been online petitions calling to ban the entry of people from China.
China has been critical of travel restrictions imposed around country of origin. Responding to the USA's warnings for its citizens to avoid China, the foreign affairs ministry stated: "Just as the WHO recommended against travel restrictions, the US rushed to go in the opposite way. Certainly not a gesture of goodwill."
TABLES TURNED
China is no doubt a big market for tourism and has been actively pursued by the broader aviation industry for at least the past decade.
Indonesia estimates it will lose $4 billion in earnings from tourism if travel from China is disrupted for one year. Last month, Finnair attributed its decision to suspend select routes to China's suspension of all group tours.
The carrier's chief operations officer, Jaako Schildt, stated: "These cancellations are needed to manage the impact of the recent suspension of group travel by Chinese authorities, which have a pronounced impact on the load factors of our Beijing Daxing and Nanjing flights."
A point to consider is China's track record for influencing the consumption patterns of its tourists. South Korea offers a prime example.
Despite its popularity with Chinese visitors, the country's tourism sector suffered greatly when China banned tour groups from August 2016 over the deployment of a US anti-missile defence system. Such restrictions were gradually lifted over a prolonged period spanning end-2017 to April 2019, though figures for Chinese visitors to South Korea indicate that the segment has remained on the road to recovery, at least until the coronavirus outbreak.
The tables have turned, as various Asian countries turn away Chinese-origin tourists to curb the spread of the coronavirus. Border control may be essential at this juncture, but if mishandled, the economic superpower's displeasure may have lasting effects on how each country is perceived as a tourist destination for Chinese citizens.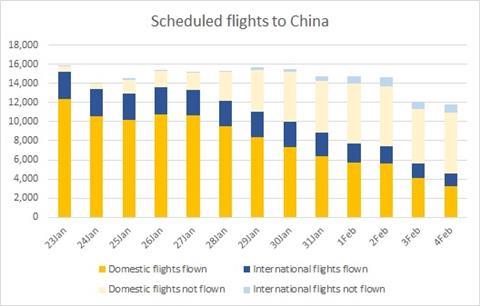 New routes may also be at risk: for example, the trial service operated by China Eastern Airlines between Perth and Shanghai Pudong. This was supposed to run for five weeks between January and February, coinciding with the peak Lunar New Year period.
Japan Airlines, which planned to launch a Haneda-Dalian route in March, tells Cirium it will continue to monitor and assess the situation for its China network.
Cirium schedules data shows that about 100 new connections to Chinese cities outside of Beijing and Shanghai were due to begin in the first quarter of 2020 and, as it stands, just under 20 in the second quarter. Most of these are operated by Chinese carriers.
"SARS saw a reduction in year-on-year traffic for four months (February-May 2003). We don't know how long this one will last," says Lu.
"Currently, we see a roughly 25% reduction in flights from and within mainland China. At a global level, this is just 3-4% at present. Planned Q1 schedule growth was around 2-3%, so it is likely we will see a global reduction in capacity in February."
RIDING IT OUT
In recent days, the Singapore and Indonesia governments, to name just a couple, have indicated their willingness to offer assistance to the aviation and travel industry.
Airlines are also coming under financial stress, especially in Hong Kong, where air traffic was already battered by ongoing civil unrest.
Hong Kong Airlines is making job cuts, while compatriot Cathay Pacific, which suffered a 30% decline in overall capacity as a direct result of the outbreak, is encouraging employees to take three weeks of unpaid leave to conserve cash.
"Preserving cash is the key to protecting our business. We have already been taking multiple measures to achieve this," says Cathay Pacific.
To protect their crew, global carriers are shortening layovers on China flights, while Singapore Airlines and Korean Air are sending additional crew to avoid overnight stays. American Airlines put an immediate halt to China services after its pilots filed a lawsuit.
While there is no certainty how long the coronavirus outbreak will last, Lu says airlines have become more responsive, proactively cancelling services and halting bookings almost immediately rather than waiting to see empty flights.
"There will be a financial impact, of course, but it should be lower than the losses experienced in 2003 unless the virus impact is prolonged."
Lu notes that back in 2003, airlines were still reeling from the post-9/11 downturn, though carriers were less affected in Asia than in other regions.
"The airline industry has seen some rationalisation since then, so major airlines are in a better financial state entering the period."
This analysis was written by SiMin Ngai, who is part of Cirium's Singapore-based reporting team