Airline trade association IATA is calling for governments to urgently step in with financial support measures, warning a liquidity crisis resulting from the swathe of capacity cuts means many airlines are close to running out of cash.
IATA had in a 5 March update painted a worse-case scenario under which the coronavirus could wipe $113 billion from airline passenger revenues in 2020 - a scenario made before the US announced a ban on travel from European countries and the recent run of countries opting to close their borders to tackle the crisis.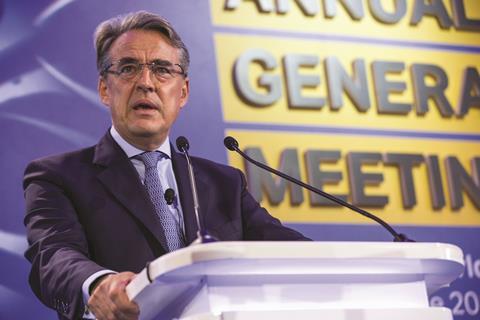 "We are not revising these estimates today, though they are clearly worse than this - particularly in Europe and the Americas," said IATA chief economist Brian Pearce in an IATA briefing call today.
"If we look at spread of the COVID virus - as it is as of 15 March - it is covering markets that represent 94% of global passenger revenues. So this is is now impacting the entirety of air transport. And its not just the impact of the virus, but more importantly the impact of border closures and travel restrictions.
"In many cases demand for the business of airlines has fallen to zero," he adds. A number of European carriers have temporarily suspended all scheduled flights.
Pearce notes that in the face of a sharp reduction in revenues, IATA's focus is on the growing liquidity crisis facing airlines. "There are a number of airlines that are in a much stronger position to weather this lack of revenues, but the majority are in a very fragile place," he says.
"At times like this, its actually balance sheets that are the critical thing for survival," Pearce says. While noting progress in improving debt levels among leading airline groups, he notes the "vast majority" of airlines still have high levels of debts, meaning fixed obligations to pay - even with the loss of incoming revenues. "That's the critical thing driving the crisis for liquidity," he says.
"On average airlines more or less had two months worth of cash at the start of the year and that is pretty much running out for many airlines today," says Pearce.
IATA director general Alexandre de Juniac adds: "This is an extraordinary crisis - one of the most severe we have ever had - so we are asking the government to take extraordinary measures."
He notes this began with a request around the easing of slot rules - and he points to the positive response from many governments. IATA is also asking for a softening in the passenger compensation regulations - de Juniac saying the rules "are too tough for these extraordinary times" - and its beyond the financial capacity of airlines to comply with these rules.
But it is also seeking a series of financial measures to support airlines through the liquidity crisis.
"We have asked governments to design and implement much broader financial support packages that could go to direct financial support of carriers to compensate for reduced revenues - this could include loans, loan guarantees or support for the corporate bond market by governments or central banks - to finance the cash shortage our members are facing.
"We are in a very, very tough liquidity crisis, so ask the government to act urgently," he says.
And de Juniac argues support for airlines will be beneficial in the long run. "Because we think connectivity is crucial to ensure the recovery will be fast and significant enough," he says.