Failure of Slovenian carrier Adria Airways deprives Star Alliance of a regional member in south-eastern Europe, and comes three years after a controversial privatisation.
Adria filed for bankruptcy after 58 years of operation, yielding to financial pressures which had forced the airline to suspend most of its services over the past week.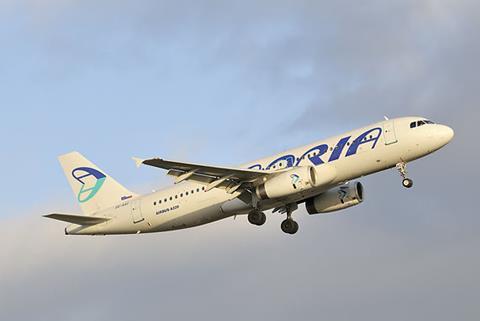 Slovenia's economic development minister Zdravko Pocivalska, during a 30 September government session, said the state investment management firm SDH and bank restructuring company DUTB had assisted with analysing the airline's financial situation.
"The financial hole is much larger than expected," says the minister.
Adria's bankruptcy, he says, leads to two possible scenarios. While the forces of supply and demand could eventually regulate the market, Pocivalska says this situation is "time consuming" and "not necessarily beneficial for our economy".
The alternative, he says, is the establishment of a new airline to retain important air transport links – an option which is "under intense study".
"It would be possible to set up such an operator within a few months," adds Pocivalska, although he warns that it would require accurate financial projections and broad political support.
Authorities have yet to release publicly the airline's full-year 2018 financial statement. Its most recent full-year financial figures, covering 2017, were published in September last year.
They show the operator, which had some 400 staff, generated an operating loss of €3.3 million on revenues of €159 million, and a net loss of €5.4 million.
Operating expenditure had risen sharply, partly driven by higher fuel prices, much faster than the increase in revenues.
Adria's performance, as a result, deteriorated from the level it achieved during its first year of private ownership – when it claimed an operating profit of €4.1 million – following its sale to German firm 4K Invest in March 2016.
But the carrier had hardly come from a position of strength. It had been the subject of privatisation efforts since at least 2012 – a year in which it lost nearly €11 million – and the airline continued to turn in losses for each year, bar one, before its sale.
The new owner had set about reviewing Adria's operations, cutting loss-making routes, restructuring weak sales channels, and looking to build up other income streams such as wet-leasing of the fleet during low seasons.
But it also curiously took over the Swiss regional carrier Darwin Airline in mid-2017, which itself subsequently filed for liquidation just a few months later.
Adria mentioned in its 2017 full-year accounts that it had moved to improve its liquidity with new supplier agreements, a revision of loan terms, and sale of non-essential property.
But the losses in 2017 and the company's position over the first half of 2018 drew the attention of the civil aviation regulator which put the carrier on a close financial watch, with monthly checks.
This led to Adria's being supported by capital injections, while its development plans became increasingly uncertain.
The airline looked at acquiring a fleet of Sukhoi Superjets late last year, a decision which seemed to further complicate a fleet mix which already included Airbus A319s, Bombardier CRJs and the former Darwin Saab 2000s but which contrasted with Adria's historical preference for Western-built types – even during its early days as an operator in communist-leaning Yugoslavia.
Adria was founded in 1961 as Adria Aviopromet – later Inex-Adria – initially with ex-KLM Douglas DC-6s and turning later in the decade to McDonnell-Douglas DC-9s.
It became a separate company in the mid-1980s, under the Adria Airways name, and survived the break-up of Yugoslavia, moving from largely charter operations to scheduled services as the flag carrier of newly-independent Slovenia.
Adria was integrated into Star Alliance in 2004 alongside neighbouring Balkan operator Croatia Airlines – a flag carrier which, like Adria, has been suffering losses and which has struggled to attract interest from strategic investors despite government aims to privatise the airline.
Slovenia's capital Ljubljana airport had been the base for Adria operations, and its operator, Fraport Slovenija, says it "deeply regrets" the carrier's bankruptcy filing. "[Adria] was our important and valuable business partner from the opening of the airport in 1963 onwards," it states, but has not given any detailed indication of the impact on the airport operator.
"Fraport Slovenija's immediate concern is to support the passengers that have been left without flight connections and to maintain safe and smooth operations at the airport."
Source: FlightGlobal.com