Plummeting MRO volumes on the back of coronavirus-driven fleet groundings pushed SIA Engineering (SIAEC) into the red at an operating level in the first-half of its financial year.
For the six months ended 30 September, SIAEC reported an operating loss of S$27.2 million ($20 million), reversing the S$37.3 million profit it made in the same period a year earlier. Revenue for the period plummeted 57% year on year, to S$223 million.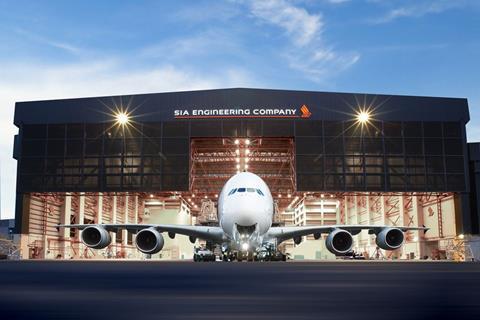 SIAEC says its line maintenance unit in Singapore saw an 86% year-on-year drop in the number of aircraft handled, with its overseas operations reporting similar declines.
"The number of hangar checks performed was also lower as demand for airframe maintenance weakened with the low flight activities and grounding of aircraft," SIAEC says.
Expenses for the period tumbled 47%, helped by wage support schemes from the Singapore government, as well as cost-cutting measures.
SIAEC also recognised a non-cash impairment on its base maintenance unit's assets of S$35 million, arising from a "significant" collapse in hangar revenue projections from lower flight hours, plus the impact of aircraft groundings and premature retirements.
SIAEC reported a net loss of S$19 million for the period, reversing the S$87.6 million net profit it made in the same period a year earlier.
The company warned on 28 October of a "material impact" from the coronavirus crisis, amid a collapse in the air travel market. In its outlook, the SIA unit reiterated the uncertainty surrounding future revenues.
"Recovery of our MRO business is contingent on the recovery of the aviation industry, which continues to remain uncertain," SIAEC states.
Still, it stresses that its "strong balance sheet with low borrowings" will help in eventual recovery.
"We will stay flexible and nimble to adapt to the changing market environment while continuing to manage our expenditure and cashflow with prudence," says SIAEC.
The company adds that it is deepening its transformation efforts in the interim, with efforts including digitalisation and automation.