SIA Engineering (SIAEC) swung briefly back into the black in its third-quarter earnings, warning that the "glacial pace" of global air travel recovery is punishing its profitability.
For the three months ended 31 December, the MRO unit of flag carrier Singapore Airlines reported an operating profit of S$1.1 million ($827,000), a 93% drop year on year.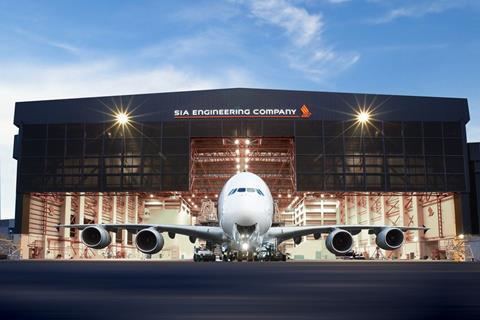 The company notes that the Singapore government's wage support schemes have gone some way to cushion the impact from the coronavirus pandemic — without it, it discloses that it would have recorded a loss of nearly S$45 million.
Revenue for the period fell 59% year on year to S$105 million, as reduced flying activity meant a reduced work volume. SIAEC discloses that the number of flights handled by its line maintenance unit during the quarter was nearly 80% lower year on year, but about 3% higher compared to the previous quarter.
"The reduction in flying hours and lower work volume continued to impact on the fleet management business as well as our engine and component joint venture companies," states SIAEC.
Expenses, meanwhile, decreased 56% year on year to S$132 million. The company states that even with governmental support and cost measures in place, the fall in expenses "could not fully offset the reduction in revenue".
SIAEC reported a net profit of S$7.7 million for the quarter, about 86% lower year on year.
On a nine-month basis, SIAEC slipped into the red, recording an operating loss of S$26.1 million, and a net loss of S$11.3 million.
SIAEC, which recently rolled out the second phase of its business transformation efforts, says it will continue to "prudently [manage] our cashflow and expenditure" during the period.
It adds: "We will continue to closely review the rationalisation of our portfolio of joint ventures and subsidiaries in the current environment, and concurrently explore new investment opportunities for capability expansion."