SIA Engineering (SIAEC) has rolled out the second phase of its business transformation efforts, where it will invest more than S$40 million ($30.2 million) in technological areas such as digitalisation and automation.
The MRO arm of Singapore Airlines says the latest investment "rides on the momentum" of existing business transformation initiatives, which has resulted in "significant improvements" in productivity and performance.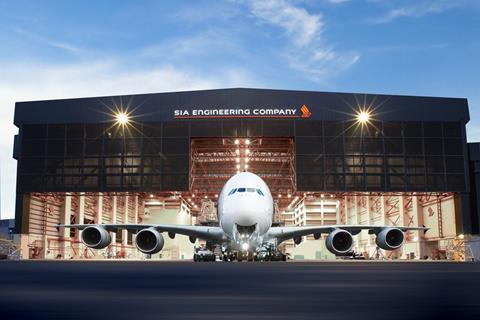 SIAEC also notes that turnaround time and operating costs have been cut down due to improved productivity.
Initiatives in the second phase include the development of an automated engine lifter for use during engine MRO works. SIAEC states this will reduced engine turnaround time by 50% for the changing of engines on widebody aircraft. It will also help its workers who have less physical strength.
The MRO is also looking to roll out a mobile application for its engineers to access and input information while on the go, providing a fillip for overall productivity.
SIAEC chief Ng Chin Hwee says the coronavirus pandemic, which has severely impacted the aviation and aerospace industry, has "made it even more imperative" for the company to double down on its business transformation efforts.
Says Ng: "With the launch of Transformation Phase 2, we will strive to be more productive and innovative and emerge from this crisis with enhanced competitiveness. We will support our staff through digital training and equip ourselves with digital tools that enable real-time sharing of information and data-driven decisions."
SIAEC first rolled out its transformation efforts in 2017, with more than 100 initiatives implemented across the company.