Portugal's government expects a joint turboprop aircraft programme with Brazilian industry will create 1,200 positions at a new integrated production facility in Evora.
The twin-engined ATL-100 is being created through a joint-venture between Brazilian firm Desaer and the Portuguese engineering and product development centre CEIIA.
It derives its designation from the Portuguese term for 'light transport aircraft', and will be capable of accommodating 19 passengers, about a dozen paratroops, or three LD3 containers with a total 2.5t payload.
Portuguese minister for territorial cohesion Ana Abrunhosa attended a 25 September event detailing the project at the Alentejo science and technology park, PACT, located in Evora.
She says the project's industrialisation will also involve the municipalities of Beja and Ponte de Sor, stating that it will generate "economic activity" and regional partnerships with local suppliers – and adding that it demonstrates the country's capabilities in "science, companies and cutting-edge technology".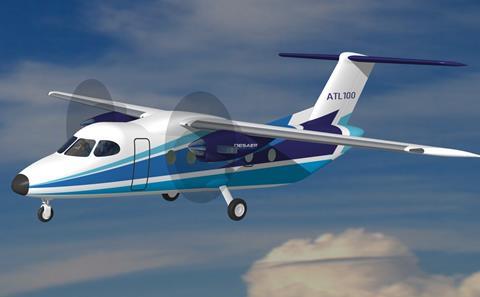 The venture aims to establish a national aeronautical manufacturer for the ATL-100, says PACT, "catapulting" the Alentejo region into a "leading position" for aerospace innovation.
Designers of the ATL-100 intend the aircraft to address regional transport and logistics demand, including serving remote areas with short, unpaved runways and little infrastructure support.
The high-wing aircraft will be 16m in length with a 20m span, and have a range of 860nm (1,600km).
It will be developed over the a three-year period – followed by industrialisation and commercial activity – with a technological focus on sustainability and the potential inclusion of low-emissions future powerplants.
CEIIA is recruiting a range of specialists in structural engineering, aerodynamics, systems, and project management for the new Evora facility, describing the ATL-100 as a "highly disruptive" programme.
It states that the venture with Desaer is particularly important given the impact on the economy from the coronavirus crisis.
Technological research organisation Fundacao Casimiro Montenegro Filho is also supporting the ATL-100 programme.