Airbus has pushed back entry into service of the long-range A321XLR, as a result of certification demands.
The aircraft – which the airframer aims to fly by the end of the second quarter – had originally been intended for initial deliveries next year.
But Airbus says "certification requirements" have meant a shift in the schedule. Chief executive Guillaume Faury says: "Unfortunately it's not completely uncommon in development of the new versions of [aircraft]."
Some modifications on aircraft are "conventional", he says, but others are "a bit more specific to this variant".
He says Airbus has started certification work with the relevant authorities, but the certification schedule is "going a bit beyond" the end of 2023, although he insists the situation is "not changing the picture of the XLR programme as a whole".
Faury also stresses that Airbus will "stick" to the performance commitments given to customers of the XLR, while it strives to address the certification requirements.
"We're working hard with our customers to try to mitigate the impact of [the delay] situation," he says.
Airbus had newly rolled-out the first example of the long-range twinjet, capable of operating routes of 4,700nm, complete with its promotional livery.
The company disclosed the postponement as it turned in adjusted first-quarter earnings of just over €1.06 billion ($1.13 billion) for the commercial aircraft operation.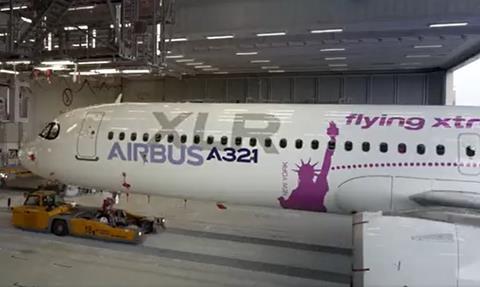 This followed delivery of 142 aircraft over the three months to 31 March, although the net figure has been adjusted downwards to 140 to account for two deliveries to Aeroflot last year which have effectively been undone.
Russian-related sanctions accounted for an €200 million impact on the airframer's finances during the quarter.
Airbus describes the results as "solid" despite the "evolving and complex" geopolitical and economic environment.
While it is maintaining its delivery target of 720 commercial aircraft for the year, Faury says the risk profile to its business for the remainder of the year is "more challenging".
Net orders totalled 83 commercial aircraft, after adjustments and cancellations from the gross figure of 253 – comprising 243 single-aisle and 10 twin-aisle jets.
The commercial order backlog at the end of the quarter stood at just over 7,000 aircraft.
Commercial aircraft revenues were up 17% to €8.5 billion, primarily reflecting the higher number of deliveries and a favourable mix. The airframer handed over 16 A350s and six A330s among the first-quarter deliveries.
But Airbus says the performance also illustrates efforts on competitiveness and cost-containment.