Airbus has commenced the flight-test campaign for its long-range A321XLR variant after the initial prototype lifted off from Hamburg Finkenwerder.
The aircraft, powered by CFM International Leap-1A engines, took off at about 11:05 on 15 June.
It is carrying a crew of five, comprising two experimental test pilots and three test engineers, who aim to check the XLR's flight controls, engines and systems such as flight-envelope protection at various speeds.
Airbus intends the aircraft to enter service in early 2024, offering carriers a range of up to 4,700nm.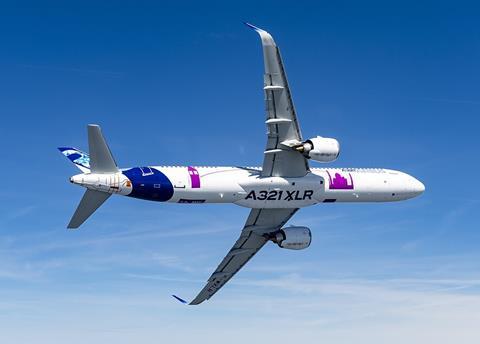 The XLR is the latest version of the A321neo twinjet line. The first test aircraft, MSN11000, was rolled out in its paint scheme in May.
While Airbus has already developed a long-range variant of the A321neo, known as the A321LR, the XLR will further enhance range capability.
It will feature a substantial modification of its fuel system with the inclusion of a large aft centre tank.
Airbus initially unveiled the XLR at the Paris air show in June 2019, and structural assembly of the jet began last year.