Airbus has commenced flight-testing with a second A321XLR, this time fitted with Pratt & Whitney PW1100G engines, after it departed on its maiden sortie from Hamburg Finkenwerder to Toulouse on 23 September.
The airframer is using four aircraft for the XLR certification programme, although only three will have been specifically built as the new variant.
Airbus's fourth airframe is a modified A321neo, MSN6839. The twinjet, powered by CFM International Leap-1A engines, was originally built in 2016 and retained by the company for developmental purposes.
This aircraft has been retrofitted with number of adaptations which are intended to feature on the XLR, in order to benefit from early testing.
These include a modified, single-slotted inboard flap which means this A321neo airframe is "aerodynamically equivalent" to the A321XLR once its landing-gear is retracted, says Airbus.
It adds that this enables the aircraft to conduct minimum-unstick testing.
The A321XLR will have an electronic rudder as well as higher-capability landing-gear, wheels and brakes owing to the increased maximum take-off weight demanded by the additional fuel load.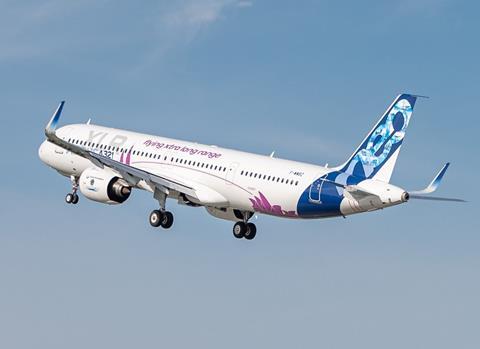 "Since we are keeping the engine thrust unchanged, we have made some aerodynamic changes to retain our desired take-off performance," says A321XLR flight-test engineering team lead Philippe Pupin.
"This has driven the physical modifications to the high-lift system [and] reprogramming of the flight control system, all of which needs to be flight-tested and certified."
The initial two aircraft will have full internal flight-test instrumentation and engineer stations fitted, as well as water-ballast transfer systems.
They are fitted with different powerplants – the Leap-1A and PW1100G – in order to conduct parallel, rather than sequential, certification of the A321XLR with each engine option.