Airbus has transferred the first of three A350-900s for the federal German government to Hamburg for outfitting at the Lufthansa Technik facility.
The aircraft flew from the airframer's Hamburg Finkenwerder plant to the city's main international airport on 7 May.
It bears the civil registration D-AGAF but will be re-registered with the government's special air wing as '10+03'.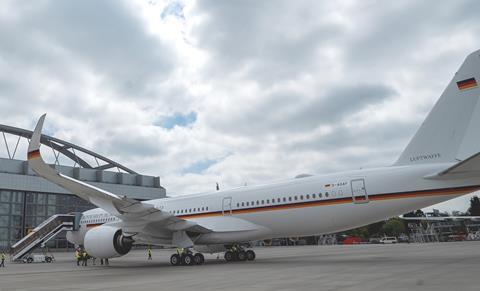 "This is the world's first conversion of this kind of an Airbus A350," says Lufthansa Technik, adding that it will receive a "transitional" cabin suitable for transporting government representatives.
This will include office, lounge and conference zones as well as delegate seating, washrooms and galleys.
The government is set to take delivery of the Rolls-Royce Trent XWB-powered twinjet before the end of July.
Two other aircraft – to be designated '10+01' and '10+02' – are still undergoing manufacture. They will have a VIP cabin, also installed by Lufthansa Technik, next year.
Once these cabins have been fitted in the two subsequent aircraft, the transitional cabin in the first A350 will be swapped to match.
Airbus listed Lufthansa Technik as the customer for three A350-900s at the end of April last year.