Romania's national aviation museum has formally received a licence-built Rombac One-Eleven, formerly in the presidential fleet of dictator Nicolae Ceausescu, donated following a 27 May auction.
Rombac locally licence-built the UK's BAC One-Eleven. The auctioned aircraft (YR-BRE) was manufactured in 1986 and served as the presidential transport from 1986 to 1989, says auction house Artmark.
Tarom originally received the jet and it was subsequently transferred to the state-controlled Romavia in 1991.
It carried a starting price at auction of €25,000 but was awarded for €120,000.
Owing to its "extreme rarity and significance" for Romania's technical history, the auction house adds, the aircraft has been classified by the ministry of culture as a mobile national heritage treasure, benefiting from legal protection.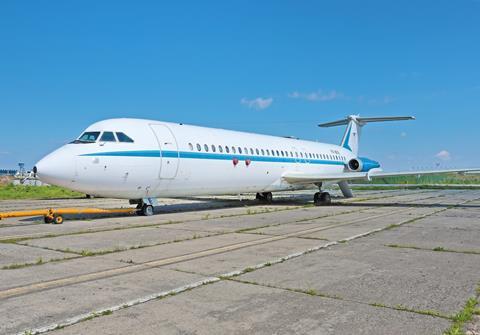 It was too large to be presented at the auction but was stored for viewing by interested parties at Bucharest's Henri Coanda airport.
The twinjet was sold to a US citizen and it was subsequently freely donated, through a sponsorship agreement, to the museum which says it acquired the One-Eleven in a handover ceremony on 28 July.
Air Force personnel will support the maintenance and preservation of the jet.
Only nine Rombac One-Elevens were fully manufactured, the first in 1982. The last to be built, YR-BRI, was also part of the auction. It was used by Ceausescu's successor, Romanian leader Ion Iliescu.