Trading platform Auction House of the Russian Federation has started accepting bids for a Yakutia Sukhoi Superjet 100 which suffered a landing accident at Yakutsk in October 2018.
The aircraft (RA-89011) landed on an icy runway and failed to decelerate sufficiently, overrunning into a buffer zone before striking a protruding lip marking the boundary of an area of runway construction.
Its main landing-gear collapsed in the accident. Only minor injuries resulted from the event.
The aircraft has been put up for sale by the auction house. It began inviting bids on 16 November and says bids will close on 19 January next year, before the auction ends on 24 January.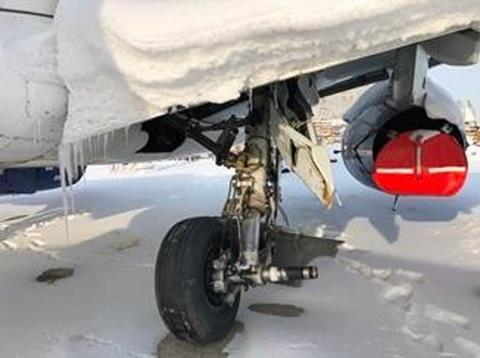 It describes the aircraft as being in "a damaged condition" and that its manufacturer, Sukhoi Civil Aircraft, has declared it "not subject to restoration".
Yakutia took delivery of the twinjet, fitted with PowerJet SaM146 engines, in December 2012. According to the auction house the starting bid price for the aircraft is Rb77.2 million ($1.05 million).