Siberian carrier Yakutia has restored an Irkut Superjet 100 to flight after extensive maintenance, giving the operator additional jet capacity.
Russian lessor GTLK says the aircraft was one of two it leased to the airline which, is says, were in a "dismantled state" at the end of last year.
Yakutia says the twinjet (RA-89035) performed a test flight at Yakutsk on 15 February, and it submitted documentation for a certificate of airworthiness, seeking to restore it to the carrier's air operator's certificate.
It says the aircraft underwent repair to its PowerJet SaM146 engines and auxiliary power unit, as well as a change of landing-gear, and work took into account 20 mandatory service bulletins.
"A rigorous check of all systems was carried out, which showed positive results," the airline says.
"Restoration of the aircraft took place under the influence of sanctions pressure."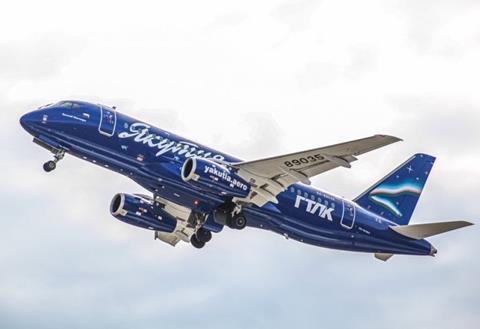 It says the work means it will have three Superjet 100s in service, adding that it benefited from co-operation with Irkut, the Sakha government, and United Engine.
GTLK emphasises that maintaining airworthiness is the lessee's responsibility, and restoration of the twinjet follows an agreement reached after a meeting between the lessor and the carrier in November last year.
"It is expected that the aircraft will soon start operating regular Yakutia Airlines flights on [east Russian] routes," it adds.
Yakutia adds that it has obtained approval, and trained personnel, to work on supporting De Havilland Dash 8-300 turboprops – pointing out that the international sanctions regime on Russian aerospace is "forcing" the carrier to conduct repair work on foreign-built aircraft.