Boeing landed new orders for 23 aircraft in May, including sizeable deals for 787s and 777s, though cancellations reduced the airframer's net figure to 14.
The 23 new orders included deals for six 737 Max aircraft – one for American Airlines and five for lessor Bain Capital Griffin, – Boeing said on 14 May.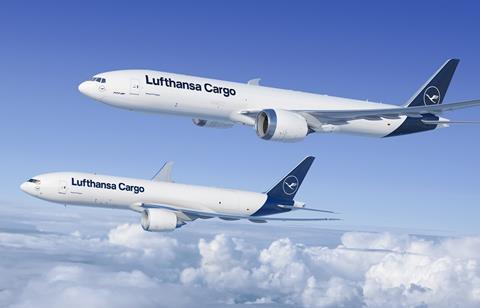 But Lufthansa provided the bulk of the order activity in May, committing to seven 787-9s, seven developmental 777-8 Freighters and two current 777 Freighters. Taiwan's Eva Air rounded out the deals with an order for a single 777F.
Offsetting those new deals were nine cancellations: Indian discount airline Akasa Air axed five 737 Max jets, and recently restructured Norwegian cut orders for four 787-9s.
However, Akasa's cancellation reflects a sale-and-leaseback agreement with Bain, which took over Akasa's five-unit Max order.
The changes left Boeing's net new orders for May at 14 aircraft, up from 12 in April.
But Boeing cut a further five aircraft from its backlog last month via adjustments to a special accounting bucket called ASC-606. That houses orders that Boeing suspects might not close due to factors including buyers' financial conditions.
Boeing moved five 737 Max and seven 787s from its backlog into the ASC-606 category in May, though it shifted seven 787s out of ASC-606 and back into its orderbook, the airframer says.
Boeing delivered 35 aircraft in May, the same number as in April. The May deliveries included one 737NG-based P-8 military surveillance aircraft for the US Navy, 29 737 Max and five widebody jets. The widebodies included one 747-8F delivered to cargo carrier Atlas Air, one 767-based refuelling tanker delivered to the US Air Force, three 777Fs – one each delivered to DHL, Emirates Airline and China Cargo Airlines, Boeing says.
The changes left Boeing's backlog at 4,192 aircraft at the end of May, down from 4,218 one month earlier.
Year to date through the end of May, Boeing took 236 orders and logged 65 cancellations, leaving net orders for the year at 171 aircraft.
The airframer delivered 165 aircraft in the first five months of 2022, including 145 737s, three 747s, eight 767s and nine 777s.
Boeing's 787 deliveries remain halted due to manufacturing quality problems. Those deliveries have been paused for most of the last 17 months. Boeing is working with the FAA to receive approval to restart deliveries, though the airframer has not disclosed a timeline.