China has operated large fighter sorties into the Taiwan Strait amid large scale live fire drills following US House Speaker Nancy Pelosi's visit to Taiwan on 3 August.
According to Taiwan's Ministry of National Defense (MND), on 4 August Beijing flew 22 aircraft across the centre line of the Taiwan Strait that divides the two countries, following a penetration on 3 August by 27 aircraft.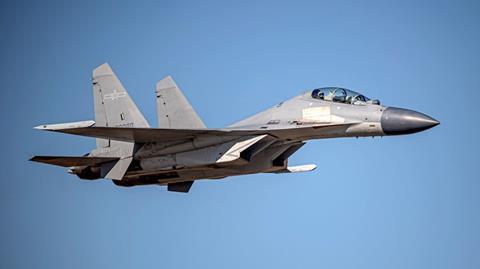 While People's Liberation Army Air Force (PLAAF) incursions into Taiwan's southern air defence zone have become a daily occurrence in recent years, it is extremely rare for Chinese aircraft to cross the dividing line.
Also, no support aircraft took part on either day, only fighters. Typically Chinese incursions include a range of support types such as intelligence, surveillance and reconnaissance aircraft and large dedicated electronic warfare platforms.
The 4 August penetration included eight Shenyang J-11s, a pair of J-16s, and 12 Sukhoi Su-30s. The 3 August sortie comprised six J-11s, five J-16s, and 16 Su-30s.
According to the MND, Taiwan responded to the Chinese incursions with combat air patrols, radio warnings, and monitoring by "air defence missile systems".
The aerial incursions come as Beijing conducts large scale missile and rocket strikes into the seas around Taiwan, disrupting both air traffic and commercial shipping.
Beijing's military actions have received international condemnation, including from the G7 group of industrialised nations on 3 August.
"There is no justification to use a visit as pretext for aggressive military activity in the Taiwan Strait," says a G7 communique.
"It is normal and routine for legislators from our countries to travel internationally. The [People's Republic of China's] escalatory response risks increasing tensions and destabilising the region."
According to China's defence ministry, the strikes are intended to simulate attack against sea targets, ground targets, and "airspace control operations".
Commenting on Beijing's actions, some defence experts believe that the exercise does not reflect Beijing's plans for a full-scale invasion of Taiwan – an extremely risky endeavour – but rather its ability to impose a blockade around the island.
While the exercises will offer valuable practice to the PLA and serve to sate at nationalistic outrage in China, some observers see a silver lining for Beijing's democratic rvials.
Mick Ryan, a former general in the Australian army and author, tweeted that the exercises offer a unique learning experience.
"The coming days will permit us to observe how China and the PLA might think about conducting a naval blockade of Taiwan," he says. "In essence, they are telegraphing their operational approach so we can war game ways to subvert it in future."
He adds that the exercises should offer some insights into how far Beijing has gone to integrate sea and air assets, along with space-based capabilities and electronic warfare.
Story updated with correct dates of Chinese fighter sorties