Boeing has named Marc Allen as chief strategy officer, effective 1 October, a move that could signal renewed focus by Boeing on developing an overarching corporate strategy amid an uncertain time.
Allen, who joined Boeing in 2007 and was president of Boeing's partnership with Brazilian airframer Embraer, takes the strategy role from Chris Raymond.
Allen will report to Boeing chief executive David Calhoun, a change from the current structure, which has Raymond reporting to chief financial officer and executive vice-president of enterprise operations Greg Smith.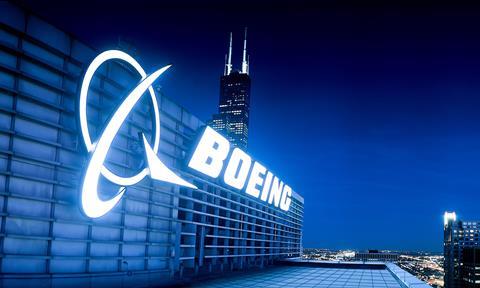 With the changes, Allen also now holds the title of senior vice-president of strategy and corporate development.
Also on 1 October, Raymond will shift to become Boeing's chief sustainability officer and will continue reporting to Smith. Boeing has not previously had a chief sustainability officer.
As strategy chief, Allen " will now take on responsibility for the enterprise's overarching strategy, including long-term planning, global business and corporate development, and strategic investments, acquisitions and divestitures", Boeing says.
The decision for Allen to report directly to Calhoun may represent heightened attention by Boeing to the critical strategy function, says aerospace analyst Michel Merluzeau with consultancy AIR.
The reporting shift suggests "strategy is back in its rightful independent function", Merluzeau says. "That Marc is going to report directly to Calhoun shows that strategy has recovered" a position of prime focus.
"I like to see strategy pitching a tent of its own," Merluzeau adds.
Boeing's next strategic steps have been uncertain in the last year owning to the 737 Max's troubles and, now, the Covid-19-induced industry downturn, which has soured aircraft demand and forced Boeing and other aerospace suppliers to lay off staff.
Prior to those challenges, analysts largely suspected the Chicago-based airframer would develop the New Mid-market Airplane (NMA), then shift to developing a 737 replacement.
Analysts say Boeing may still develop the NMA or something similar, but the company has publicly paused the effort and its path forward has clouded.
A Yale Law School graduate and member of Boeing's executive council since 2014, Allen has held various Boeing leadership posts. Boeing named him president of its Embraer partnership and of group operations in 2019, a role formerly held by Raymond.
Boeing backed out of a planned $4.2 billion acquisition of Embraer's commercial aircraft division in April.
Earlier, Allen was president of Boeing International, the division responsible for overseas strategy and operations. He has also been Boeing International's vice-president of global law affairs and general counsel, and president of both Boeing China and Boeing Capital.
"Marc is a creative, inclusive and forward-thinking leader whose strategic vision will help Boeing navigate the challenges facing the global aerospace market and position us for long-term success," Calhoun says.
He notes Allen's "demonstrated history of global business leadership and a track record of smart growth and partnership decisions".
Allen "will further build on the great work by Greg Smith", adds Calhoun.
Merluzeau says Allen is known in the industry as "sharp", "really quick" and strategically minded.
Boeing has not disclosed specific details about its strategic plan, but Merluzeau suspects Allen's top priorities include modernising and transforming Boeing's "industrial capability".
The company for several years has talked of overhauling its production system in preparation for future commercial aircraft programmes.
Allen will likely also work to strengthen Boeing's collaboration with suppliers to ensure they are up to the complex task of supporting Boeing's next aircraft development programmes.
Boeing may need such suppliers to meet production rates as high as 60 or 90 aircraft monthly.
"The strategic transformation of that industrial capacity and supply chain is very critical," Merluzeau says.
Raymond, as chief sustainability officer, will work to advance environmental, social and governance sustainability, Boeing says.
"Raymond will lead a team that collaborates across Boeing's commercial, defence and services businesses and its enterprise functions in support of the company's commitment to responsible and inclusive business practices and positive global impact," says the company.