Boeing is laying off a group of seven "line-assist instructor pilots" whose work includes helping airlines bring into their fleets aircraft types that those airlines have not previously operated.
The union representing the affected pilots, the Society of Professional Engineering Employees in Aerospace (SPEEA), disclosed the cuts.
The union describes the move as surprising considering the expected pending certification of the 737 Max and pilot training concerns raised by two Max crashes.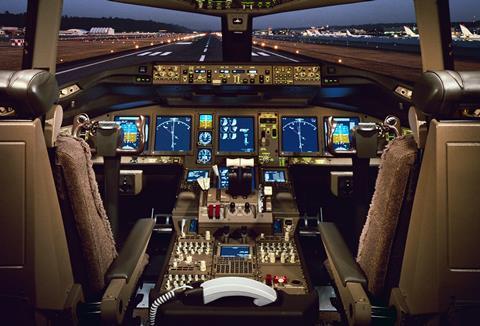 But Boeing says the cuts are unrelated to and will not affect the Max's return to service.
The affected line-assist pilot group "has not supported 737 training for several years and was not expected to be involved in 737 Max training when we return the airplane safely to commercial service", it says.
The pilots provide the "specific role of in-flight instructors for airlines that purchase a brand-new airplane type for its fleet", Boeing says, adding that the pilots do not support airlines taking new derivatives of existing aircraft types.
The 737 Max is a 737 derivative, and many 737 Max customers already operate 737NGs.
Boeing says the layoffs reflect a lack of work for the instructor pilots, citing the current troubled state of the aerospace industry. Lack of aircraft demand amid the pandemic has caused new-aircraft deliveries to slow to a trickle.
"In the current business environment, where few airlines are expected to introduce all-new models in the near term, we have made the decision to eliminate the distinct position of line-assist instructor pilot," Boeing says.
SPEEA says Boeing delivered layoff notices to the seven "flight-training airplane pilots" on 18 September and intends to shift the "critical work of on-site" airline training to contractor Cambridge Communications Limited, based on Isle of Man off the coast of England.
With the change, Boeing will "eliminate all direct-Boeing [flight-training airline] pilots by the end of November – a critical moment in Boeing's plan to return the 737 Max to service".
Boeing has said it expects regulators will certificate the Max in time to allow deliveries to resume in the fourth quarter.
Cambridge, established in 1995, "is the world's largest provider of flight-training personal and instructor pilots to the global aviation industry", the company's website says. Cambridge manages "contracts of 500 pilots and flight instructors for major airlines and OEMs."
Boeing declines to comment about its relationship with Cambridge, and Cambridge did not immediately respond to a request for comment.
"Eliminating the Boeing training pilots ends the decades-long Boeing practice of using its own specialists to ensure airline customers operate Boeing aircraft safely," SPEEA says. "During a meeting with union leaders last week, Boeing representatives said [Cambridge] contract pilots will do nearly all simulator and in-flight training involved in the 737 Max return to service."
SPEEA says the laid off Boeing pilots are rated to fly multiple aircraft models and qualified as pilot instructors.
"The loss of this critical coordinating function between the Boeing employees who design and manufacture aircraft and the customer air crews who fly them is incalculable" says SPEEA executive director Ray Goforth.
Boeing notes it still employs hundreds of pilots to support operations and customers. "With our commercial customers facing significant challenges, we are continuing to adjust our workforce to best support their requirements."
The "need for this training has declined in recent times and there is no longer a statement of work to supply full-time employees in this role", Boeing says. "It's a very challenging time for us as we reduce our workforce."
The company still employs "hundreds of pilots to support its operations and its customers", and remains "fully staffed to meet the training needs of our customers related to the Max", says Boeing.
Boeing and many other aerospace companies have laid off staff as the coronavirus pandemic significantly eroded demand for new jets.
In August, Boeing disclosed it was implementing a "second voluntary" round of job cuts in addition to 19,000 job cuts it announced earlier this year.