El Al has outlined its operational position to potential investors ahead of publishing a formal offer to acquire shares in the Israeli airline as part of a 505 million shekel ($145 million) issue.
The airline is planning to commence the offering on 16 September, part of a recapitalisation which will separately include a $250 million state-backed loan.
El Al's passenger flight operations, halted in March, remain suspended and the carrier says a timeframe for resuming regular and significant activity is "difficult to estimate".
While the share issue is being finalised, the airline says that there is no agreement yet over raising the loan, and no certainty that it will be obtained.
It points out that, under amended legislation on flight refunds, repayments to passengers affected by cancellations need to be made by 1 October.
"If the company fails to raise the [loan] or a significant portion of it by 1 October – and if this date is not extended – it will not be able to pay back the full amount of the refund to customers," it adds.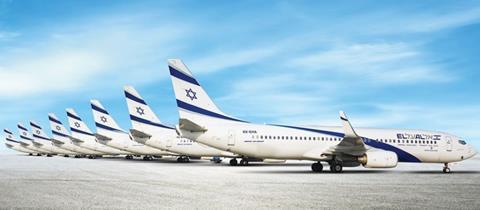 El Al says it expects the air transport sector to recover, as it did after the economic shocks of 2001 and 2009, and has outlined the efforts it has made to reshape the company to be more efficient.
It is expecting to cut its workforce by 2,000 personnel, around 30% of its total, and is implementing salary reductions through collective agreements – the entry into for which depends on obtaining the $250 million loan.
These measures will generate savings of $260 million, it says. About 90% of its workers are currently furloughed.
El Al also plans to save a further $130 million in fixed and variable costs, outside of fuel, with an activity volume of 75%.
In response to the suspension of passenger flights, the airline returned five Boeing 737-800s to lessors and says it has the option of returning another six of the type depending on future demand.
Alongside the share issue and loan, El Al estimates a further $177 million will be raised through sale-and-leaseback transactions, sale of spares and engines, and the release of surplus capital from compensation funds.
The company stresses that the outline is an overview and does not claim it includes all the information necessary to make a decision to invest.
As part of the share offer, the Israeli government is set to purchase 393.4 million shares at the offer price of 0.671 shekels, generating nearly 264 million shekels.