Fastjet Group is to hold discussions on potential amendments to the terms of its planned disposal of its Zimbabwean operation, given the financial impact of measures taken to combat the coronavirus outbreak.
Investors led by Solenta Aviation Holdings had been planning to acquire the operation before the crisis, and Fastjet Group had expected to complete the divestment in April.
"These timelines are no longer practically achievable," it states. The situation has been complicated by a three-week nationwide lockdown in Zimbabwe, which started on 30 March, four days after similar measures were taken in South Africa.
Fastjet Zimbabwe has been aiming to restart services on 21 April, but the group acknowledges that the restrictions could be extended in both countries.
"Shutdown of flights of Fastjet Zimbabwe will have a further impact on the overall Fastjet Zimbabwe business and obligations, as revenues have stopped whilst the fixed costs continue," it says.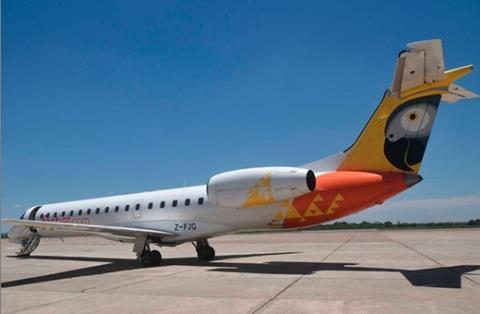 The investment consortium intending to acquire Fastjet Zimbabwe "remains committed" to the divestment, says Fastjet Group, but has indicated that – given the costs of flight suspension and uncertainty over passenger demand – it would "potentially foresee modified terms" which need negotiation.
"These discussions can only begin when the impacts and timeline of the two countries' shutdowns are better understood," says the group.
Fastjet Group had signalled in March that it sufficient resources to meet operational needs until the end of June.
It says it has reduced monthly cash burn – assuming zero revenue from Fastjet Zimbabwe and its charter carrier Federal Airlines – to $550,000. It had cash reserves of $1.88 million on 3 April.
But it insists that Fastjet Zimbabwe has several "pillars of strength" including a low cost base, paid-off Embraer ERJ-145 jets, and support from authorities in Zimbabwe. Fastjet Group adds that the operation is set to benefit from lower fuel prices once flights restart.