Spanish carrier Iberia has become the first to take delivery of the latest updated version of the Airbus A350-900.
Airbus's new production standard increases the use of advanced materials to trim the weight by 1.2t, while the maximum take-off weight has been raised by 3t.
FlightGlobal had disclosed in June that the -900's maximum take-off weight was being increased by 3t to 283t.
"The new standard comes with a wider interior cabin at armrest level," the airframer adds, providing the option to offer over 30 more seats in three-class configuration.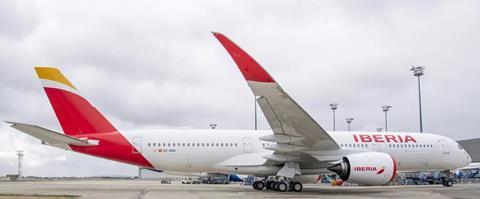 Both the -900 and -1000 will benefit from the higher performance standard.
Airbus chief commercial officer Christian Scherer had told FlightGlobal of the plans for seat densification of the two models during the Farnborough air show in July.
Iberia's latest aircraft – MSN567, registered EC-NXD – was flown from Toulouse to Madrid on 29 September.
Its delivery brings to 500 the overall number of A350s handed over to customers. Iberia has 20 A350-900s on order, of which it has received 14.
"These improvements provide operators with increased profitability and flexibility, while offering passengers more space and comfort in the quietest cabin of its category," says Airbus.
"It also positions the A350 platform ready for future trends including decarbonisation solutions."