Airbus is nearing introduction of a new interior configuration standard for the A350 which will permit 10-abreast economy seating and potentially add 30 seats to the aircraft's accommodation.
The densification change will allow the A350-1000 to carry "well over" 400 passengers in certain configurations, chief commercial officer Christian Scherer told FlightGlobal at the Farnborough air show.
He says the new standard provides "increased volume" inside the cabin which allows the airframer to "very comfortably" put a 10-abreast layout in economy, and provide 20-30 more seats depending on the pitch.
Scherer stresses that this is achieved "without compromising seat width", and involves fitting such features as a slightly-reshaped cabin wall lining, so the walls are "pushed out a little bit", providing additional interior width.
"That's something that's beginning to get good resonance in the market, because the comfort standards of the A350 have proven to be unparalleled," he says.
"The cabin altitude on the airplane, the air quality, the sound levels of the A350 provide passengers with a very unique comfort environment."
Initial aircraft featuring the new standard will be entering service shortly.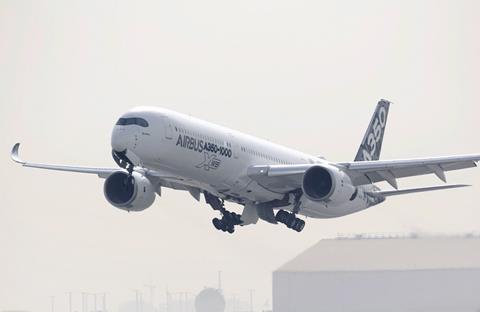 Airbus previously put the typical accommodation of the A350-1000 at 369 seats in a two-class layout, including 54 business seats and 315 nine-abreast economy seats.
The denser cabin option would bring the aircraft closer to the Boeing 777-9 which has a basic two-class layout of 414 seats – comprising 42 in business and 372 in 10-abreast economy.
While the update will raise the seating capacity of the A350-1000, Airbus is not immediately entertaining thoughts of designing a physically larger variant of the twinjet type – despite recent remarks from Emirates Airline president Tim Clark and IATA head Willie Walsh that the -1000 is too small and Airbus should consider an aircraft capable of seating at least 350 passengers in four classes.
Scherer says that Airbus takes "good note" of Clark's comments, particularly as he remains a "champion" of the A380 – the discontinuation of which left the A350-1000 as Airbus highest-capacity offering.
"His arguments are well taken," says Scherer. "Do we look at solutions, possible developments on A350s for additional seats? Of course we do. We constantly do, because of the [reduced] unit cost and to improve productivity of the programme.
"Is there anything on the drawing board to stretch the airplane, make it bigger? No there isn't – but are we looking at it? For sure we are.
"We're just out of the worst downturn we've ever seen in this industry. And we're at an air show, so people saying 'I need bigger airplanes' is great stuff. But it's not going to precipitate the development of a new airplane."
Scherer says Airbus is "quite happy" with the performance of the A350, and adds the company is witnessing "a lot of interest on the widebodies coming back".
"We need to come out of this pandemic and we need to so soberly, with solid transactions," he says. "We're not so much in the business of rehashing old deals, we're looking forward, so I'm quite confident."