Finnair has tweaked the maximum take-off weight of 10 Airbus A350-900s in order to overcome payload limitations on certain Asia-Pacific services.
It has hiked the weight to 280t on five aircraft and 275t on five others, up from the previous figure of 268t.
The airline has been forced to fly longer sectors to Tokyo and Seoul owing to the closure of Russian airspace.
These longer flights restrict the number of passengers and quantity of cargo that the aircraft can transport.
If an aircraft's full payload capability is not required, carriers will typically opt for lower take-off weight variants in order to reduce airspace fees.
But the aircraft remains structurally able to operate at higher weights and the airframe only undergoes a software modification, to address flight-control and balance, and other minor changes to items including manuals.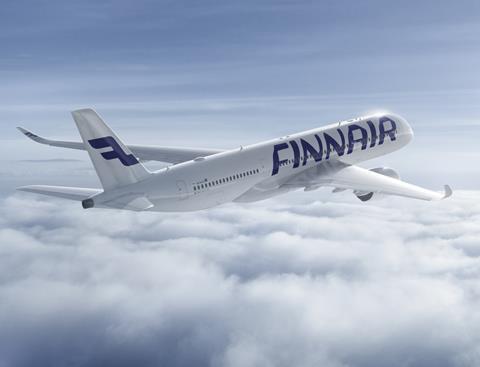 Finnair has a total of 17 A350-900s and two more on order. Technical operation compliance manager Leena Niemi says 10 of the aircraft have been modified in co-operation with Airbus.
Airbus's highest maximum take-off weight for the A350-900 has recently been increased to 283t with the introduction of a new standard.
"Usually we do everything we can to make our aircraft lighter," says Niemi. But the ability to transport additional passengers and freight to Japan and South Korea, alongside the higher fuel requirement for the longer sectors, generates extra revenue and improves the efficiency of the route.
Finnair has been exploring ways to restructure its route network as a result of the difficulties posed by the Russian airspace closure.
"Weight and balance data for the modified aircraft have been updated, the noise certificates of the aircraft have been renewed, and the aircraft maintenance programme and life limits of the main landing-gear parts have been updated," says Niemi.
Finnair expects around an 8t payload benefit from the changes, depending on route conditions. The aircraft underwent modification at the beginning of the year and started services on 18 January.