Italian start-up regional carrier SkyAlps has agreed to lease a pair of De Havilland Dash 8-400 turboprops from Chorus Aviation Capital.
The aircraft are scheduled to be delivered to the Bolzano-based airline in April and May.
Chorus has identified the airframes involved as MSN4230 and MSN4237.
These aircraft were both originally delivered to UK regional carrier Flybe in January 2009. The airline collapsed in March last year.
SkyAlps says it has been established as a subsidiary of renewable energy specialist Fri-El Green Power, and states that it aims to offer domestic services from summer 2021.
"Throughout our engagement [Chorus] has demonstrated its expertise in regional aviation matters and its commitment to SkyAlps operations," says the carrier's president, Josef Gostner.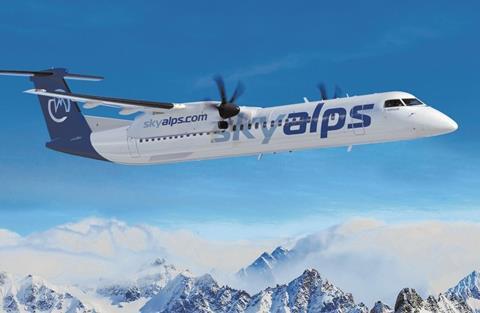 Chorus says the aircraft underwent "extensive" reconfiguration and return-to-service work after being repossessed from Flybe last year.
"We have been very impressed by the entrepreneurial spirit and business vision of the SkyAlps management team," adds president Steven Ridolfi, pointing out that the carrier is looking to introduce regional connectivity to north-eastern Italy.
"We are excited at the growth potential of this market."
Bolzano airport is located in northern Italy, some 60km south of the Austrian border, within the South Tyrol province.