South Korean low-cost carrier Jeju Air narrowed its operating loss for the 2022 financial year, while rival Jin Air swung to an operating profit in its first quarter.
Jeju Air's operating profit for the financial year ended 31 March was W175 billion, an improvement on the W3.2 trillion it lost in the previous financial year, according to a financial disclosure.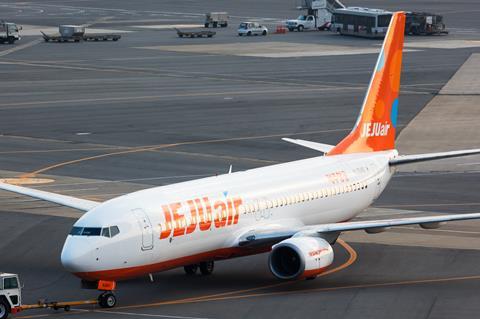 Revenues rallied strongly, nearly tripling to W7 trillion.
During the year Jeju Air carried 7.94 million passengers, up from 6.5 million in the previous financial year.
The carrier's performance was bolstered by a strong fourth quarter, where it swung to an operating profit of W185 billion from an operating loss of W672 billion a year earlier. The carrier's quarterly net profit was W209 million, compared with a net loss of W591 billion a year earlier.
Jeju Air noted a rebound of air travel on Japanese and Southeast Asian markets during the fourth quarter.
Korean Air low-cost unit Jin Air also enjoyed a strong first three months of the year, swinging to a first quarter operating profit of W84.9 billion, compared with an operating loss ow W46.4 billion a year earlier.
Revenue for the quarter rose fivefold to W353 billion. Jin Air also swung to a net profit of W60 billion, compared with a net loss of W31 billion a year earlier.
In the first quarter of 2022, when travel restrictions were still widely in place, 88% of its revenue came from domestic traffic, and just 3% from international. In the first three months of 2023, it derived 75% of its revenue from international traffic, and 19% from domestic.
While domestic ASKs fell 28% and RPKs fell 19% in the first quarter, Jin Air's international ASKs rocketed to 2.7 billion from 36 million, and international RPKs soared to 2.5 billion from 13 million.
Jin Air attributes the strength to the demand recovery following the coronavirus pandemic. It expects revenue to keep climbing as foreign visitors travel to South Korea.