Russian regional carrier Komiaviatrans is aiming for expansion after an injection of aid from the local government allowed it to avoid collapsing into bankruptcy.
The Komi republic's ministry of economic development states that the airline had recorded debts of Rb4.2 billion ($55 million) in October last year.
Government representatives approved a Rb1.8 billion financial assistance package which was credited to the company's accounts in December.
The ministry says this has been used to pay obligations to suppliers, as well as salary and tax arrears, slashing the debt to Rb1.1 billion by the beginning of January this year.
It states that paying off the overdue debts will "prevent the company from going bankrupt".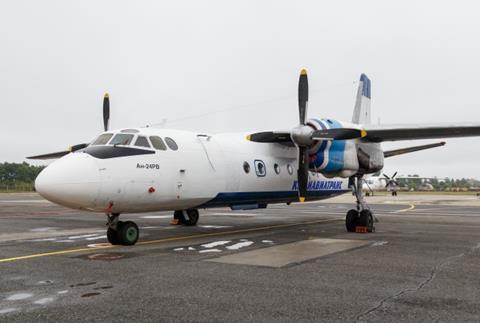 The ministry discussed the state of the carrier in November 2021 and proposed to offer the Rb1.8 billion in support, on condition that creditors supported an agreement to write off the bulk of lease payment debts for Embraer jets.
Deputy chair of the Komi government Elmira Akhmeyeva said these lease debts accounted for over 40% of the company's liabilities, and were the "main factor" – alongside weakened transport demand, the pandemic, and exchange rates – contributing to its difficult financial situation.
Implementation of the package has allowed the airline to retain its 1,600 personnel, pay salaries owed, and address the leasing and tax debts, the ministry states.
"Elimination of bankruptcy risks allowed Komiaviatrans to move on to stabilising its financial condition," it adds, enabling the airline to restore fleet capacity and increase production.
Komiaviatrans' recovery plan will focus on developing its helicopter transport network, re-introducing rotorcraft which have needed repair and acquiring new ones.
Maintenance will also be undertaken at the republic's airports.
"Komiaviatrans' financial recovery plan is being successfully implemented," says Akhmeyeva, adding that the government has been able to "preserve" a company necessary for social mobility. "The next task…is to ensure sustainable air travel with the creation of new intra-regional routes."