Lufthansa is to put its vintage Lockheed L-1649 Starliner and Junkers Ju 52 on permanent display either in Frankfurt or Munich as part of a centenary celebration.
It had offered pleasure flights on its Ju 52 for decades until the company sought to reduce funding to its aviation heritage division.
Lufthansa also acquired the L-1649 originally with the intention of returning it to flight, but the extensive – and expensive – restoration was similarly cancelled.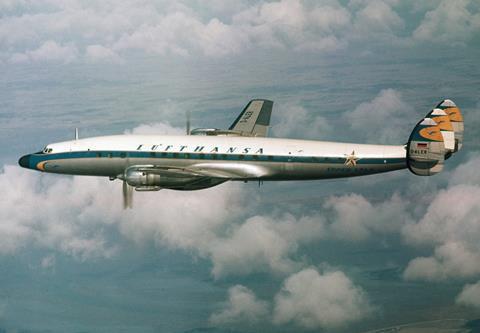 Although Lufthansa was technically founded in 1953, the German operator is to mark 100 years since the first flight, in April 1926, of predecessor Deutsche Luft Hansa, following the merger of Deutscher Aero Lloyd and Junkers Luftverkehr.
It says the anniversary in 2026 will be celebrated with a "new home" for both historic aircraft, at one of the carrier's two principal hubs.
"Preparations for this will begin this year," it adds.
Both the L-1649, first flown in 1956, and the Ju 52, built in 1936, are stored at Paderborn airport. The Ju 52 is almost fully assembled, but the L-1649 remains dismantled following its transfer to the site.