German flag-carrier Lufthansa's training division has emerged as the launch customer for a Boeing 787 fixed flight-training device designed to complement full-flight simulator activity.
Lufthansa Aviation Training is acquiring the device from L3Harris Technologies, and is ordering a 787 full-flight simulator as part of the agreement.
Both the flight-training device and the simulator will be delivered to the organisation's centre in Frankfurt by the second half of 2022.
Lufthansa ordered 20 787-9s in March and increased its commitment by a further five in May.
"All training devices are convincing in daily training operations - not only for us, but also for our customers," says Lufthansa Aviation Training managing director Matthias Spohr.
He says the new 787 equipment will "significantly expand" the company's portfolio, supporting training not only for the German carrier as it introduces a new aircraft type but also for third-party customers.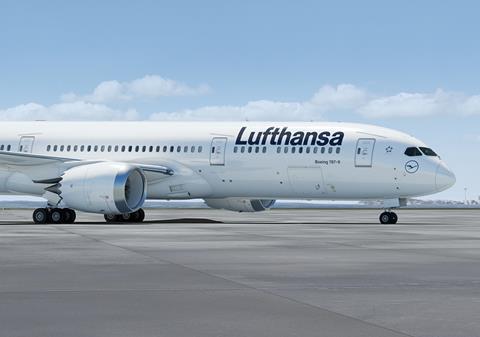 L3Harris says the combined systems will provide a "best-in-class training solution" to the carrier, adding that the new device allows airlines to reduce costs while maintaining training effectiveness.
The European Union Aviation Safety Agency has been working to modify training regulations to account for the development of new technologies, and allow operators to conduct a larger proportion of training on simpler systems.
"This mixed training-device approach reduces reliance on higher-cost full-flight simulators for type rating and some elements of recurrent training," says L3Harris.
It adds that the also addresses the need for cost-effectiveness and flexibility as the post-pandemic recovery evolves.
Lufthansa Aviation Training already operates an A350 full-flight simulator and two A320 flight-training devices, supplied by L3Harris, at its Munich, Vienna and Zurich stations.