Scandinavian operator Norwegian achieved an operating profit of NKr1.03 billion ($100 million) during the third quarter of 2022, driven by its highest-ever unit revenue.
Weighing on profitability at the restructured business, however, were fuel prices and the strong US dollar, it said on 26 October, amid "heightened macroeconomic uncertainty".
Nevertheless, the low-cost carrier insists it is "well prepared for the winter season and solid positioning for 2023".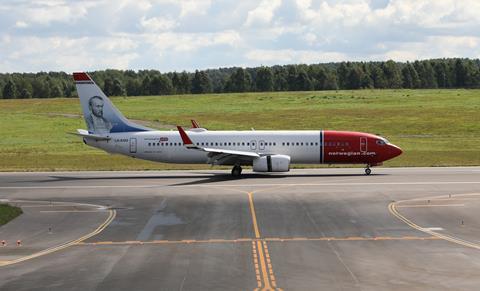 Total operating revenue during the July-September period rose to NKr7.11 billion, from NKr1.93 billion in the Covid-hit third quarter of 2021. Increased passenger traffic and higher yields meant revenue was up 46% on the second quarter of this year.
Unit ticket revenue of NKr0.66 for the period was a "record-high for the company", Norwegian says, and reflected "particularly high demand for air travel" during the period, which saw load factors of 88%, versus 81% in the second quarter.
Its net profit of NKr910 million was up from NKr169 million in the same quarter of 2021.
Norwegian ended the third quarter – which is traditionally its peak travel period – with cash and cash equivalents of NKr8.19 billion, up from NKr7.54 billion at the end of the previous three months.
And despite high-profile operational challenges at a number of European airports, Norwegian says "nearly all scheduled flights were operated" during the third quarter. Still, the challenges affected punctuality, with 74% of flights departing on schedule, compared with 79% in the previous quarter and 91% in the same period last year.
Noting an expected softening in demand for the coming winter season, Norwegian cites a potential capacity reduction of at least 25% based on the power-by-the-hour agreements in place for some of its fleet.
But looking into 2023, the airline is still aiming to have 85 aircraft in service for the summer season, compared with 69 at the end of the third quarter of this year.
"While demand for air travel may be impacted by the current high inflation and increasing interest rates, booking trends remain encouraging with an increasing number of passengers choosing to fly with Norwegian," says chief executive Geir Karlsen.