Qantas will see a sixth Airbus A380 join its fleet in December, as it plans to start operating additional international destinations.
The sixth A380 – out of a total of 10 in Qantas's fleet – will rejoin the carrier from storage and commence services from the middle of the month, which the carrier says will provide "more operational resilience over the busy Christmas holidays."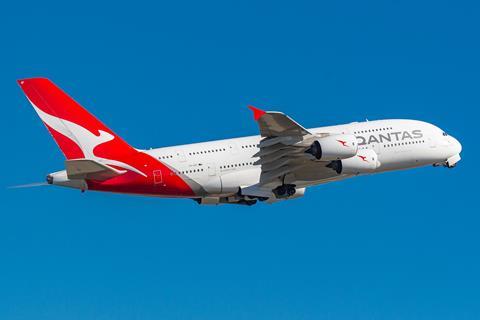 From 3 December, Qantas will also operate three-times-weekly on the Melbourne-Dallas Fort Worth route with Boeing 787s, adding to the carrier's Sydney-Dallas Forth Worth service.
Qantas outlined its plans in an update about its plan for the upcoming southern hemisphere summer.
On 10 December, the carrier will also start operating four-times-weekly on the Sydney-Seoul route.
In addition, the carrier has resumed services on the Brisbane-Tokyo route with A330s, but the resumption is to Tokyo Haneda – before its suspension the Brisbane route was operated to Tokyo Narita.
A330s will also replace Boeing 737s on Sydney-Bali flights until 26 January, and flights are being added on Trans-Tasman routes to New Zealand and to the Pacific island if Fiji.
December will also see three new A321Lrs join Jetstar, following the arrival of the first example in August. These aircraft will be deployed on Australia-Bali routes.
In November, Qantas upgraded its profit forecast for the first half of the 2023 financial year, citing "continued strength" in travel demand, particularly on its domestic network.
For the six months to 31 December, the Qantas Group said it expects to earn an underlying profit in the range of A$1.35-1.45 billion ($897-964 million), up from the A$1.2-1.3 billion it forecasted in October.