Two Airbus A350-900s and three A330-300s are among 10 additional aircraft that SAS is seeking to shed from its fleet, as part of a restructuring under US Chapter 11 protection.
The company has submitted a 3 September court filing aiming to reject 10 leased aircraft – including five twin-aisle and five single-aisle airframes – and four CFM International CFM56 engines.
It has identified the two A350s as MSN378 and MSN391, and the A330s as MSNs 1665, 1697 and 1715. All five aircraft are fitted with Rolls-Royce Trent engines.
The five single-aisle jets comprise three A320neos – powered by CFM Leap-1A engines – plus an A321 and Boeing 737-700.
SAS has been pushing through a restructuring programme designated 'SAS Forward', of which resizing the fleet is a crucial part.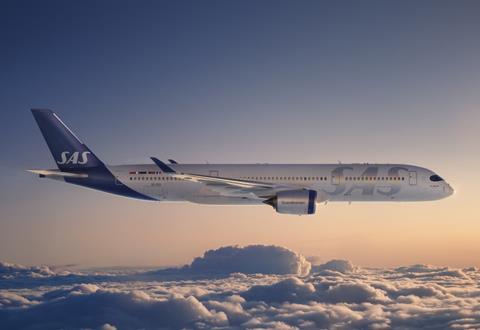 The company and its associates under Chapter 11 state in the filing that they "do not need the excess leased equipment for their business operations", and that the aircraft and engines are "no longer part of the…fleet or business plan".
At the time it entered Chapter 11 the carrier had 100 aircraft, of which 20 were owned.
SAS's filing says the reshaped fleet is a "cornerstone" of its restructuring, and that it is party to a number of aircraft lease agreements that are "significantly above market" or "no longer fit" in its plans.
"While [we] sought various concessions from aircraft lessors prior to [entering Chapter 11], including amending existing leases on mark-to-market terms and returning aircraft, [we] were unable to achieve the level of concessions needed to successfully implement 'SAS Forward'," it adds.
SAS says a review of the fleet and spare-engine plan, to determine the necessary reductions, remains in progress.
The 10 aircraft at the centre of the lease rejection are mainly stationed at SAS's main bases in Copenhagen, Stockholm and Oslo.
SAS has previously agreed a lease termination covering an A321, MSN1848, with the corresponding lessor outlined in a 25 August filing.