Central European budget carrier Wizz Air is cutting 1,000 personnel, nearly one-fifth of its staff, after its operation was reduced to a bare minimum by the coronavirus crisis.
The airline says it has been forced to take the "difficult step" to make workers redundant, adding that it has also carried out additional short-term furlough of staff.
Wizz Air has a fleet of Airbus jets and is planning to return 32 older aircraft by the end of 2022-23 as their leases expire, as part of its measures to trim costs and improve liquidity.
It states that its balance sheet is still "very strong" with "excellent" liquidity including €1.5 billion in cash.
Wizz Air has just ended its latest fiscal year, on 31 March 2020, and has disclosed that it will take a fourth-quarter charge of €70-80 million relating to hedging losses.
It expects, as a result, to record a net full-year profit of €270-280 million for 2019-20. The airline points out that its underlying net profit will be within its earlier guidance of €350-355 million.
But it remains unable to forecast its 2020-21 performance.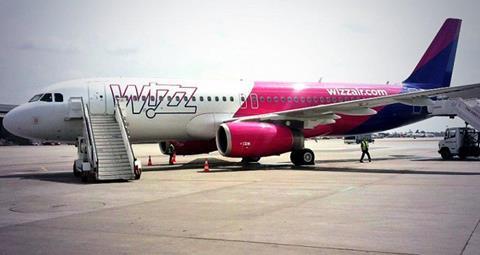 Chief executive Jozsef Varadi and other senior officers will take a 22% cut in income for the year, while the salaries of pilots, cabin crew and administrative staff will be reduced by an average of 14%.
"We have taken various initiatives to protect the position of the company in a controlled manner," says Varadi, adding that Wizz is reviewing the "competitiveness and allocation" of assets.
"We are also working to further improve our strategic, cost and cash position in the aftermath of this crisis to ensure we can deliver our long-term growth target."
The airline is only offering 3% of its pre-crisis capacity.
Wizz Air says, however, that its new Abu Dhabi venture is "progressing in line with the initial timeline", and that it expects its regular operation to return to a 15%-per-year growth track once the crisis abates.