Budget carrier Wizz Air is maintaining its fleet-expansion programme, although it is prepared for potential disruption from supply-chain issues.
It added eight new Airbus A321neos during the quarter while returning four A320s at the end of their leases.
The changes take Wizz's fleet to 157 aircraft.
"Our fleet programme remains intact," said chief executive Jozsef Varadi, speaking during a first-quarter briefing on 27 July. "We're not deferring any aircraft deliveries."
Wizz expects to receive another 36 A321neos over the balance of the fiscal year while 11 A320s will exit the fleet.
The carrier's latest fleet plan indicates 182 aircraft by the end of March 2023, of which 50% will be A321neos.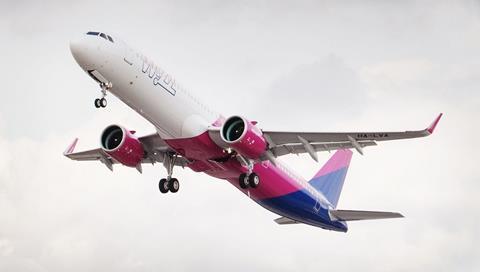 Varadi says he believes there is "no better aircraft" than the A321neo and the type has increased the Wizz average seat-count to 214 while helping to offset rising fuel prices.
He says deliveries might be "subject to some delays" as a result of supply-chain snags.
But he stresses that the airline is taking 40-50 aircraft per year, adding: "Even if there's a shift of a few months, here and there, the plan remains intact going forward."
Wizz has yet to retrieve four aircraft situated in conflict-hit Ukraine. Three are located in Kyiv and the other in Lviv.
Although the company has been able to maintain the jet in Lviv, says Varadi, this is "not the case" for those in the Ukrainian capital. But he believes all four could be returned to operation if recovered, following comprehensive checks.