Central European budget carrier Wizz Air has returned to service one of the four Airbus jets stranded in Ukraine as a result of the conflict.
The rescued aircraft, an A320, was retrieved from the city of Lviv on 13 September, and flown to Katowice in Poland. Wizz says "no significant extra repair work" was required.
Following airframe structural checks and an inspection of the engines, the aircraft returned to service in October, says Wizz.
Three other aircraft remain in Ukraine, located at Kyiv's Zhulhany airport, and the airline is optimistic that they could be returned to the fleet by the end of this year.
"The aircraft grounded in Kyiv are in good condition and with no damage, evidenced by photographic images and local employee information," says Wizz.
"Maintenance work has been performed to put parking and storage procedures in place."
Engine inspections in October showed "no major adverse findings", the carrier adds.
Wizz is estimating up to €22.5 million ($22.3 million) in possible maintenance provisions for the three aircraft, but believes the actual figure will be far lower.
"Relying on the delivered inspection work, the high end of the estimated maintenance cost represents a very remote, worst-case scenario which assumes major overhaul is required on all components, including engines," it states.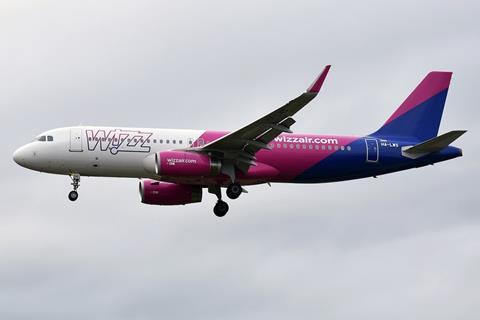 Over the first half of the fiscal year – the six months ending 30 September – the airline received 21 new Airbus A321neos, and returned six A320s.
By the end of the first half it had 168 jets, with 68 A321neos among them, and the average aircraft seat-count in the fleet had risen to 216.
Wizz expects A320neo-family aircraft to account for more than half its fleet by the end of the fiscal year in March 2023.
It expects to take delivery of 14 more A321neos in the second half and return nine A320s.
Wizz recently exercised purchase rights on more A321neos and its order backlog, at the end of September, comprised 394 A320neo-family aircraft – 47 long-range A321XLRs.
Chief executive Jozsef Varadi says the airline benefits from fixed interest-rate structures to finance 94% of its fleet.
He adds that the carrier's aircraft finance tenders "continue to be oversubscribed", with increasing numbers of financing participants in comparison with last year.