Weakening of the euro against the US dollar generated a foreign-exchange impact of €140 million which exacerbated budget carrier Wizz Air's losses over the first quarter.
Wizz Air turned in an operating loss of €284 million ($289 million) for the three months to 30 June.
But a revaluation of US dollar-denominated lease liabilities resulted in the unrealised foreign-exchange loss, and deepened the airline's net loss to €452 million.
While the carrier generated revenues of €809 million over the quarter, the load factor of 84.7% trailed the pre-crisis figure of 93.7%, and this lag – mainly the result of ramp-up – kept unit revenues 10% down on the pre-pandemic level.
Chief executive Jozsef Varadi says that the largest part of the summer ramp-up is "behind us" and that the airline will work to maximise unit revenues given the higher input costs.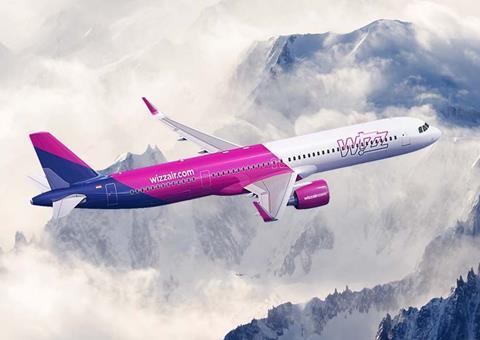 The airline is to offer 30% more capacity over the summer compared with pre-crisis levels, and expects to benefit "month-on-month momentum" in fares and loads.
Varadi believes unit revenues will improve by 10% on pre-crisis levels during the second quarter.
But he remains "very conscious" of the economic environment, pointing out that fuel prices for the quarter doubled from pre-pandemic figures, and the carrier is still subject to effects from "lingering" travel restrictions, supply-chain and operational disruption, and the conflict in Ukraine.
Fuel expenditure totalled €508 million for the first quarter, pushing up overall unit costs. Unit costs were 40% higher against pre-pandemic levels, with 75% of the increase resulting from commodity inflation.
But Varadi says the airline invested over the period to "re-establish" its "proven" operating model, and that the carrier is seeing the results in the second quarter.
"We expect to deliver a material operating profit as revenue and pricing momentum continue to improve," he adds.
Wizz has reined-in its original capacity objectives for the summer, in order to reduce the risk of operational disruption, and has been encouraged by the resulting signs of "normalisation".