Budget carrier Wizz Air is limiting summer capacity growth to around 35% compared with the pre-crisis level, in order to reduce risks of operational disruption over the peak period.
The airline says it has "further improved the agility and resilience of our network", measures which include adjusting schedules where a "higher occurrence" of problems, such as slot allocation or turnaround times, have been observed.
Wizz Air had expected to fly 40% more capacity over the second quarter – the summer months from July-September – compared with fiscal 2019-20, but has revised this downwards in a first-quarter quarterly update.
It says it expects to "reduce utilisation" by 5% for the peak period, and puts summer capacity growth instead at 35%.
Wizz disclosed the measures as it turned in a first-quarter operating loss of €285 million ($289 million) and a net loss of €450 million, attributing this to a combination of disruption, lower utilisation and unrealised foreign-exchange losses.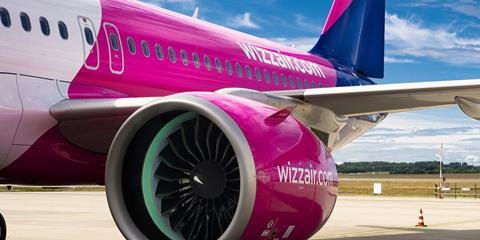 Over the first quarter, the airline says it continued to ramp-up its operation against a "challenging macro- and operational backdrop". It achieved a capacity hike of 30% against fiscal 2019-20, in line with its previous outlook.
Unit revenues were down 10% during the quarter compared with this pre-crisis baseline, although the carrier recorded sequential month-by-month improvement as fares rose over April-June.
But it says disruptions contributed to higher ex-fuel unit costs over the quarter, around €50 million, with the balance of the rise attributed largely to lower utilisation.
Unit costs including fuel nearly doubled for the quarter, compared with the pre-crisis figure, as fuel prices rose to an average of $1,239/t. Wizz recently disclosed that it was implementing insurance hedge coverage and returning to systemic hedging from 2023-24.
But the carrier expects a "material" operational profit for the second quarter as revenues and pricing improve. It adds that its liquidity remains strong with a cash balance of €1.57 billion at the end of June.