The US military's Defense Advanced Research Projects Agency (DARPA) has selected two companies to design demonstrator aircraft for the agency's heavy lift seaplane project.
DARPA said on 1 February it has chosen unmanned aerial systems (UAS) maker General Atomics and Boeing subsidiary Aurora Flight Sciences to produce designs under the first phase of the Liberty Lifter programme.
"We are excited to kick off this program and looking forward to working closely with both performer teams as they mature their point-of-departure design concepts through Phase 1," says DARPA Liberty Lifter programme manager Christopher Kent. "The two teams have taken distinctly different design approaches that will enable us to explore a relatively large design space during Phase 1."
DARPA launched Liberty Lifter in 2022 with the goal of producing an aircraft capable of carrying large, heavy loads and of taking off and landing on water without ground or ship-based infrastructure.
San Diego-based General Atomics, which produces popular UAS platforms including the MQ-9 Reaper and MQ-1C Gray Eagle, was selected for the programme last November. The company received a $7.96 million development contract.
"Our experience in maritime aircraft such as the MQ-9B SkyGuardian and SeaGuardian will help advance the capabilities of the Liberty Lifter concept and expand our cargo aircraft portfolio," General Atomics president David Alexander said on 1 February.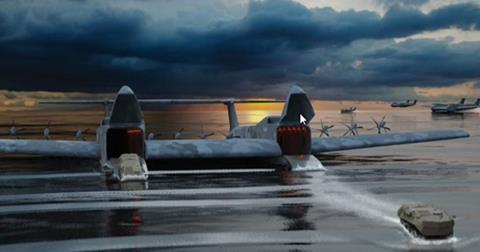 Aurora, an aerospace technology developer purchased by Boeing in 2017, now follows General Atomics on Liberty Lifter. The company confirmed on 1 February it was selected by DARPA for Phase 1 and has received six months of funding to reach "conceptual design review of a wing-in-ground-effect seaplane".
"Aurora's point-of-departure concept is a high-wing mono-hull seaplane designed for affordable full-scale production and extended maritime operations, including at high sea states and in high-traffic areas," the company says.
The initial Liberty Lifter contract includes an executable option to continue work through preliminary design review, Aurora notes.
DARPA says it established several target goals for the Liberty Lifter demonstrator designs, with the aircraft being similar in size and capacity to Boeing's C-17 Globemaster cargo transport jet.
"Goals include taking off and landing in Sea State 4, sustained on-water operation up to Sea State 5 and extended flight close to the water in ground effect, with the capability to fly out of ground effect at altitudes up to 10,000 feet above sea level," the agency notes.
Sea State 5 ocean conditions include wave heights of 2.5-4m (8-13ft), under the World Meteorological Organization's sea state code.
DARPA notes the General Atomics team has selected a twin-hull, mid-wing design to "optimise on-water stability". The proposal employs distributed propulsion using 12 turboshaft engines.
Aurora's initial approach "more closely resembles a traditional flying boat, with a single hull, high wing and eight turboprops for primary propulsion", the agency says.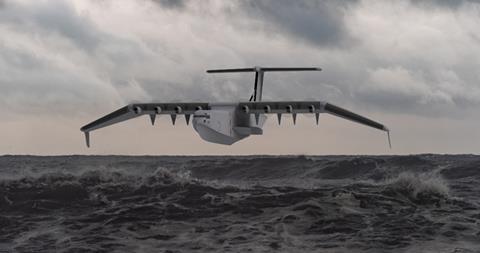 The Liberty Lifter concept was borne from a perceived vulnerability of traditional heavy lift platforms, both aerial and maritime.
"Although current sealift is very efficient in transporting large amounts of payload, it is vulnerable to threats, requires functional ports and results in long transit times," DARPA noted when announcing the initiative. "Traditional airlift is much faster, but has limited ability to support maritime operations."
The agency hopes Liberty Lifter will demonstrate "a leap in operational logistics capabilities", it said.
During Phase 1, DARPA plans to work with Aurora and General Atomics to refine the Liberty Lifter designs "with particular attention to operational needs and operating concepts", it says. The Phase 1 contract awards cover an 18-month period of work, including six months of conceptual design work, nine months of design maturation and three months for manufacturing planning and for test and demonstration planning reviews.
Phase 2, which includes continued detailed design, manufacturing and demonstration of a full-scale Liberty Lifter X-Plane, will begin in mid-2024.
DARPA says it anticipates teaming with one or more of the uniformed US military services to develop the Liberty Lifter concept into an operational vehicle.