General Atomics Aeronautical Systems will receive nearly $8 million from the US Defense Advanced Research Projects Agency (DARPA) to design a heavy-lift seaplane.
The California-based manufacturer of such unmanned air vehicles as the MQ-9 Reaper and MQ-1C Gray Eagle won the fixed-fee contract, worth up to $7.96 million, after a competitive bidding process, a Department of Defense (DoD) 25 November procurement announcement says.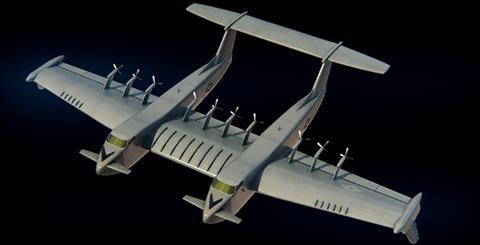 The company did not immediately respond to a request for comment.
The award falls under DARPA's Liberty Lifter programme, which the agency launched in May with the goal of engineering a heavy-lift aircraft capable of landing and taking off without use of land- or ship-based runways. DARPA often invests in emerging technologies, such as swarms of commercial drones and pilotless helicopters, that have the potential for military application.
The Liberty Lifter concept was borne from a perceived vulnerability of traditional heavy lift platforms, both aerial and maritime.
The project envisions an airframe combining the ability to carry large, heavy loads with ability to take-off and land from water. Such a design could enable highly controlled flight close to turbulent water surfaces and sustained flight at mid-altitudes.
"Although current sealift is very efficient in transporting large amounts of payload, it is vulnerable to threats, requires functional ports and results in long transit times," DARPA noted when announcing the initiative. "Traditional airlift is much faster, but has limited ability to support maritime operations."
The agency hopes Liberty Lifter will demonstrate "a leap in operational logistics capabilities", it said.
"This first phase of the Liberty Lifter programme will define the unique seaplane's range, payloads and other parameters," Alexander Walan, programme manager in DARPA's Tactical Technology Office, said earlier this year. "Innovative advances envisioned by this new DARPA programme will showcase an X-plane demonstrator that offers war fighters new capabilities during extended maritime operations."
Engineering and design work on the General Atomics contract is expected to be completed in May 2023.