US Special Operations Command (SOCOM) is seeking Japan's assistance with a project to develop a seaplane variant of Lockheed Martin's venerable C-130 tactical transport.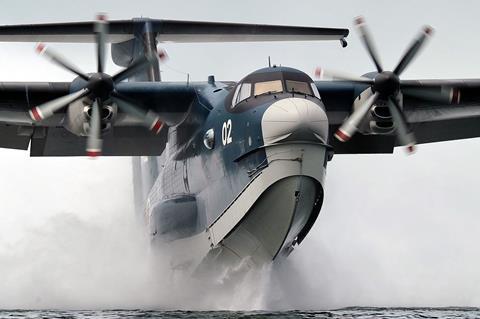 Speaking at the Special Operations Forces (SOF) Week conference in Tampa on 9 May, SOCOM's head of acquisitions said the command wants to learn from Japan's experience with its ShinMaywa US-2 maritime cargo aircraft.
"Japan is a very important partner in the [Indo-Pacific]," says Jim Smith, acquisition executive at SOCOM. "We are looking at partnering to see what we can learn from their experiences with the US-2."
Cirium data lists six of the amphibious-capable turboprops in the inventory of Japan's Maritime Self-Defense Force, which uses the craft for search and rescue operations. Tokyo took delivery of the first US-2 in 2009.
SOCOM's interest comes as the US military is attempting to tailor its forces for a potential conflict in the Western Pacific region – an area characterised by vast expanses of open water and numerous small islands with minimally developed infrastructure. Expanding operations there might necessitate new military equipment.
Heavy-lift cargo seaplanes have become a particular area of interest for military planners in Washington and at US regional headquarters globally. SOCOM communicated its desire for an amphibious aircraft in 2021, when its fixed-wing aviation procurement office announced interest in modifying Lockheed's MC-130J special operations transport for maritime take-off and landing.
At the time, SOCOM's head of fixed-wing aircraft procurement said his office was working with industry to determine if the concept was even feasible.
"It's a… physics-and-engineering-difficult programme," US Air Force Colonel Kenneth Kuebler, who remains SOCOM's fixed-wing programme executive officer, said at the 2021 SOF conference.
Only modest progress appears to have been made since.
On 9 May, Kuebler says the first flight of an amphibious C-130 demonstrator will not happen for some time.
"In two to three years we will look to do a demonstration of the full capability," he says, adding that SOCOM is engaged in engineering tests and broader feasibility studies.
Challenges associated with developing water-capable C-130s, and news of the Japanese partnership, raise the possibility that SOCOM could instead opt to procure the operationally-proven US-2. As the headquarters providing logistics support to US special operations forces, SOCOM operates a procurement system separate from other US military services. That includes independent aircraft acquisition.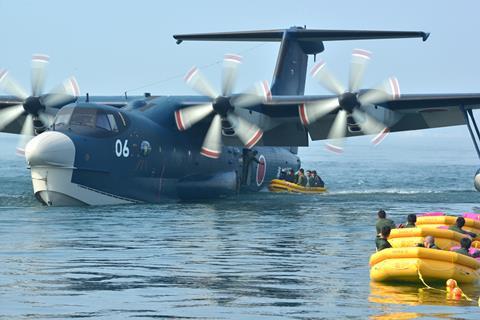 For now, however, SOCOM intends only to learn about Japan's experience with US-2s, says acquisition chief Smith.
"I won't say that it's going to necessarily lead to an adoption of the US-2," he notes, without ruling out the possibility.
Alternatively, the USA could develop a new aircraft. The Pentagon's secretive technology development agency – the Defense Advanced Research Projects Agency (DARPA) – is already exploring that possibility with its Liberty Lifter programme.
Launched in May 2022, the effort seeks to develop a heavy-lift cargo seaplane capable of operating without ground- or ship-based infrastructure. The theoretical craft would be capable of taking off and landing in rough seas. It would make use of wing-in-ground-effect lift to carry heavy loads and be capable of flying as high as 10,000ft.
DARPA selected two companies to design demonstrator vehicles for Liberty Lifter: unmanned aerial vehicle maker General Atomics Aeronautical Systems and Boeing-owned aerospace technology developer Aurora Flight Sciences. Both already produced preliminary design concepts and are working through initial design maturation with DARPA.
The second phase of the Liberty Lifter project – which includes detailed design, manufacturing and demonstration of a full-scale X-Plane – is to begin in mid-2024, according to DARPA.
The agency says it anticipates teaming with one or more US military services to develop the Liberty Lifter concept into an operational vehicle.