Defence aviation giant Lockheed Martin is investing in the next generation of wing-in-ground-effect technology.
The company's venture capital fund, Lockheed Martin Ventures (LMV), on 22 March revealed a so-called strategic investment in Regent – a Rhode Island start-up that is building a type of vessel the company calls a "sea glider".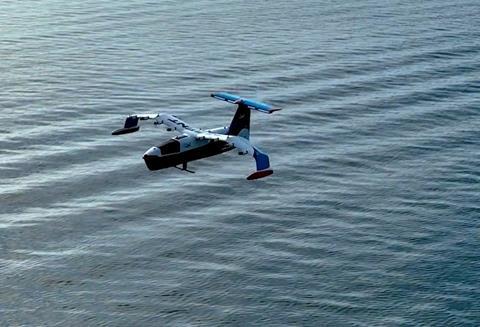 Regent describes its all-electric, wing-in-ground-effect craft as combining "the high speed of an airplane with the low operating cost of a boat". The company says the type operates exclusively over water, with the ability to carry passengers and cargo at speeds of up to 156kt (290km/h) over a range of 156nm (290km).
Regent suggests its vessels could fill military roles including logistics support, cargo transport and search and rescue.
"We see defence strategy evolving toward an island-hopping force featuring agile, affordable, and distributed craft," says Billy Thalheimer, co-founder and chief executive of Regent. "Lockheed Martin's expertise and resources will be invaluable as we work together to adapt sea gliders for defence use cases that are critically important to national security."
The US military has been fervently working to adapt its existing forces to operate over the vast distances of the Indo-Pacific region, where tensions with China have been steadily increasing in recent years.
Aircraft that can take-off and land directly on the water have experienced a resurgence as part of that effort.
The Pentagon's internal technology incubator – the Defence Advanced Research Projects Agency, or DARPA – has contracted with General Atomics Aeronautical Systems and Boeing subsidiary Aurora Flight Sciences to develop a heavy-lift seaplane it calls the Liberty Lifter.
Lockheed appears keen to capitalise on interest in the resurgent technology.
Currently, Regent's sales are confined to the commercial sector. The company says it has sold more than 400 of its aircraft to aviation and ferry customers, including Hawaii's Mokulele Airlines, Florida's Southern Airways Express, Germany's FRS and New Zealand's Ocean Flyer.
However, the investment by Lockheed indicates the defence-centric manufacturer sees a military case for hybrid maritime aircraft.
"We believe that Regent sea gliders can bring tailored solutions to the future battle space," says Chris Moran, general manager of Lockheed Martin Ventures. "This investment reflects our commitment to innovating technologies that have the potential to transform the way we adapt to our customer's needs and support mission success."
Lockheed tells FlightGlobal that its analysts in the company's venture capital firm "have a set of technologies they're looking to invest in". Without providing specifics, the company says other technologies in which LMV might explore investments include advanced manufacturing, hypersonic flight, artificial intelligence and 5G communications.
Neither firm has disclosed the value of Lockheed's investment in Regent, or what percentage of Regent Lockheed will own in return.
Other companies to receive LMV investment funds include satellite maker Terran Orbital, space launch provider Rocket Lab and quantum computing developer IonQ, Lockheed tells FlightGlobal.
The US Federal Aviation Administration (FAA) tells FlightGlobal it shares regulatory oversight of the sea glider class of vessels with the US Coast Guard. A similar arrangement is in place for traditional seaplanes.
"The agencies are working together to address the certification needs of this re-emerging industry," the FAA says.