Canberra plans to sell 46 Boeing F/A-18 A/B "Classic" Hornets to Air USA, a firm that provides tactical airpower training services to the US military and international customers.
The aircraft are being retired as Canberra takes delivery of up to 72 Lockheed Martin F-35As, which are replacing the Hornet in Royal Australian Air Force (RAAF) service.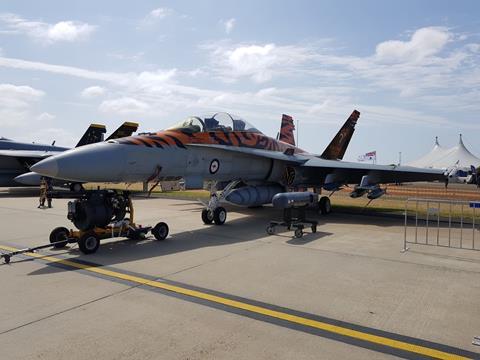 "The Classic Hornet aircraft will be used to provide training services to the United States Air Force and will be prepared over the next three to four years," says Melissa Price, minister for defence industry.
Price gave no details about the pricing, but said that the work to prepare the jets for transfer to Air USA will provide 24 direct industry jobs at RAAF Williamtown.
The announcement follows a previous 2019 deal to sell 25 Hornets to Canada for A$95 million ($62.9 million). This is intended to fulfill a capability gap while Ottawa conducts a competition for a new fighter. Under this deal, 18 aircraft will be used as combat assets, and seven for spare parts and testing.
When the Canada deal was announced the RAAF operated 71 Hornets. The Air USA deal suggests that every single RAAF Hornet will eventually leave Australian soil.
Cirium fleets data suggests that 52 single-seat F/A-18As remain in RAAF service with an average age of 32 years, while its 16 remaining two-seat F/A-18Bs have an average of 32.9 years.
The deal will represent significant fleet growth for Air USA, which has 16 in-service aircraft. These comprise 11 BAE Systems Hawk Mk. 67s with an average age of 26.9 years, four Aero Vodochody L-39ZAs with an average age of 20.4 years, and a single L-39C that is 41 years old.
The company also has a pair of UAC MiG-29UBs that are listed as in storage. In addition, Air USA's web site also lists assets such as the Alpha Jet and the L-159.