Australia will invest A$65 billion ($63 billion) in airpower over the coming decade, as it shifts its defence focus to deal with a more dangerous Asia-Pacific region.
In a major update to the country's 2016 Defence White Paper, Canberra will invest approximately A$270 billion in defence over the next 10 years, with an eye to deterring foes at longer ranges and securing supply chains.
"Our region is in the midst of the most consequential strategic realignment since the Second World War, and trends including military modernisation, technological disruption and the risk of state-on-state conflict are further complicating our nation's strategic circumstances," says prime minister Scott Morrison.
"The Indo-Pacific is at the centre of greater strategic competition, making the region more contested and apprehensive. These trends are continuing and will potentially sharpen as a result of the coronavirus pandemic."
The update covers all areas of military power: air, land, sea, space, and cyber. The air domain will cover 24% of all spending, second behind the maritime domain with 28%.
"Australia requires a technologically advanced strike and air combat capability which must be capable of defeating threats as far from Australia or its deployed forces as possible," says the update.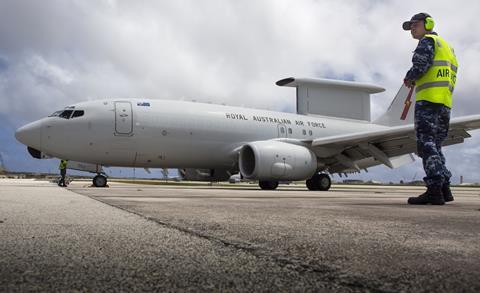 "As well as possessing potent weapons, our air combat capabilities must be fully integrated with supporting intelligence, surveillance, reconnaissance and logistics systems."
The update stresses continued acquisition of the Royal Australian Air Force's (RAAF's) planned 72 Lockheed Martin F-35As, adding that a replacement will be sought in the late 2030s. A replacement for the Boeing EA-18G Growler electronic warfare aircraft is also foreseen from the late 2020s.
An "Additional Air Combat Capability" with funding of A$4.5-6.7 billion is listed from the mid-to-late 2020s. It is not clear precisely what this refers to, but local trade publication ADBR suggests it could mean upgrading Royal Australian Air Force Boeing F/A-18F Super Hornets to a Block III configuration, acquiring additional F-35As, or adding unmanned combat air systems - or some combination of these options.
"Teaming Air Vehicles" are listed as a separate requirement, with funding planned from the late 2020s out to 2040.
In addition, the Boeing E-7A Wedgetail airborne early warning and control system aircraft will receive capability updates, pending its replacement in the late 2020s.
"Plans for the E-7A replacement will now involve increasing the fleet to provide greater coverage of the highly-complex future air and joint-battlefield environment that will include a proliferation of autonomous systems and long-range and high-speed weapons."
The air force's Lockheed C-130J tactical transports will be replaced from the late 2020s, while the Airbus Defence & Space A330 multi-role tanker transport (MRTT) will be replaced from the early 2030s. In the shorter term, plans for two additional MRTTs (designated the KC-30A in Australian service) will be scrapped, with money saved going to improve the availability of the RAAF's existing inventory.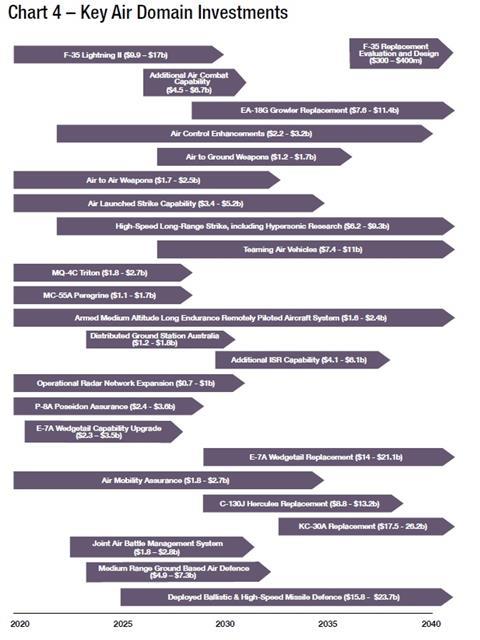 "New investment will include larger replacement fleets for the C-130J Hercules transport and the KC-30A air-to-air refuelling aircraft," says a factsheet issued with the update. The KC-30A replacement could include both manned and unmanned systems, to better allow the RAAF to sustain long-range operations.
In addition to research on high-speed, long-range strike systems, including hypersonic weapons, the update calls for the "procurement and integration of advanced longer-range strike weapon systems onto combat aircraft to allow the air force to operate at greater range and avoid increasingly sophisticated air defences."
Loitering munitions will be sought to give the RAAF more options for "persistent presence and strike in an increasingly complex environment". Updated self-protection systems will be installed on a "range of aircraft" to improve survivability against advanced threats.
Canberra will also beef up the capabilities of air bases in the country's north to improve their survivability in the event of a chemical, biological, radiological or nuclear attack.
Army and naval airpower will also see significant updates.
In addition to the ongoing effort to replace the army's Airbus Helicopters Tiger fleet, a new "long-range rotorcraft" is planned from the late 2020s.
As for the navy, the Sikorsky MH-60R is seen as serving beyond 2035. The update also lists a new "logistics helicopter" that will be obtained from the mid-2020s.
"Improved weapon systems, with longer range and greater survivability, will give Defence the capability to deter or defeat attacks as far from Australia as possible," states the update.
"New and existing aircraft will combine with remotely piloted and autonomous systems to provide increased lethality and survivability. An expansion of the air mobility fleet will improve Defence's ability to support and project our forces across Australia, the Indo-Pacific and further afield, when required."