Lockheed Martin has secured a $447 million contract from the US Navy to produce 12 Sikorsky MH-60R anti-submarine warfare (ASW) helicopters for South Korea.
The contract provides for the production and delivery of the 12 rotorcraft, says the US government in a contract announcement.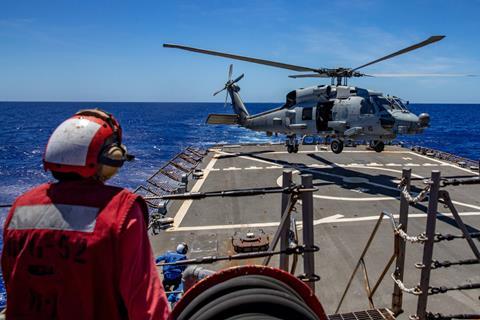 It gave no further details in regard to the exact contents of the package, or the delivery timeframe.
In December 2020, Seoul announced that it had selected the MH-60R to fill its Maritime Operations Helicopter requirement.
At the time, South Korea's Defence Acquisition Program Administration pegged the total value of the deal at W960 billion ($853 million).
The original Foreign Military Sales case for the deal, in August 2019, set the deal's potential value at $800 million. It included a broad range of equipment and services such as weapons, sonobouys, radars and communications equipment, as well as training and support.
Leonardo had also pitched the AW159 Wildcat for the requirement; Seoul has previously acquired eight examples of the UK-built platform.
The news of the contract comes amid reports carried by South Korean news agency Yonhap that North Korea continues to advance it submarine capabilities.
On 11 April, it reported that Pyongyang is poised to launch a new 3,000t submarine.
In addition, Pyongyang is apparently working on a submarine capable of launching ballistic missiles. On 8 April, Beyond Parallel, part of the Center for Strategic & International Studies, reported that Pyongyang might be readying a test launch of a submersible ballistic missile.