Lockheed Martin F-35As in service with the Royal Australian Air Force (RAAF) have achieved initial operational capability (IOC).
The IOC achievement means that F-35As operated by the RAAF's 3 Sqn can now be deployed operationally.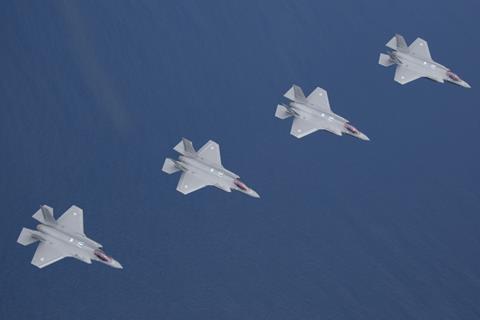 "The fifth-generation F-35A, along with the [Boeing] F/A-18F Super Hornet and EA-18G Growler, is key to our air combat capability and critical to achieving the objectives set out in the 2020 Defence Strategic Update to shape, deter and respond," says defence minister Melissa Price.
"For the last two years, Defence has rigorously tested the F-35A fleet to assess aircraft and system performance, and declare this important milestone."
Achieving an IOC for the F-35 in 2020 has been a long-stated goal for the RAAF. The IOC milestone includes the ability to employ weapons such as the Raytheon AIM-120 AMRAAM medium-range air-to-air missile, AIM-9X Sidewinder missile, the Joint Direct Attack Munition, Small Diameter Bombs, and the type's internal 25mm cannon.
The IOC declaration came just over two years after 3 Sqn received its first F-35A in September 2018.
"This IOC ushers in a new era of Australian air power that gives the RAAF transformational and game-changing capabilities," says Lockheed Martin Australia chief executive Joe North.
"As the original equipment manufacturer and lead industry sustainment partner for Australia's F-35A fleet, Lockheed Martin congratulates the RAAF on achieving this milestone, and we stand ready to support the fleet with our industry partners."
Cirium fleets data indicates that the RAAF has 30 in-service F-35As. Its total requirement is for 72 examples.