The UK Royal Air Force's (RAF's) Rapid Capabilities Office (RCO) has tested an airborne communications node update applied to an Airbus Defence & Space A330 Voyager multi-role tanker transport (MRTT).
Named Babel Fish 7, the trials activity demonstrated the use of a Nexus data platform and Raven virtual communications node to deliver "a combined intelligence picture of hitherto unrivalled detail in near real-time", the service says.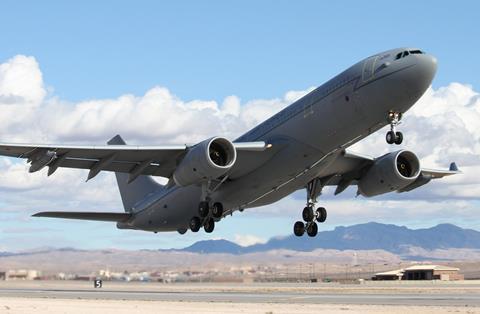 Airbus and Voyager service provider AirTanker jointly funded a satellite communication system upgrade on one A330, "enabling the aircraft to act as an airborne communications node whilst concurrently operating its air-to-air refuelling tasks".
"The RCO hand-carried its deployable systems on board and connected into the new satellite communications feed, demonstrating a real-time common operational picture, within just a few minutes," the RAF says. The trial was intended "to show how the system worked in the most demanding environments, proving that if it is feasible to configure a new information advantage system at 25,000ft", it adds.
Such a multi-domain capability will be required to provide a so-called combat cloud infrastructure to support the UK's future combat air system, including a Tempest fighter due to enter operational use by 2035.
"The ability to pull together intelligence and present it in a way which enables near real-time decisions to be made is critical," says RCO deputy head Group Captain Patrick Shea-Simonds. "The speed at which the information was collated, processed and presented [during the trial] was quite remarkable," he adds.
During one demonstration flight, the Voyager also carried capability directors from the RAF, British Army and Royal Navy as observers, along with representatives from other UK government departments.
"This new system enables intelligence to be drawn from a variety of sources, whether it be from space, an intelligence, surveillance and reconnaissance aircraft, a ship at sea or land-based system," the RAF says. The updated equipment fitted on the Voyager "has been fully certified and remains on the aircraft, available for future operational use when required", it adds.
The RAF has conducted multiple Babel Fish-series trials over the last several years, with the work also having explored enhanced secure communication links between the Eurofighter Typhoon and Lockheed Martin F-35B.
"Secure connectivity is key to the future battlespace," says Richard Franklin, head of Airbus Defence & Space UK. "The collaboration with the RAF and AirTanker to embed satellite communications and connect, while demonstrating a flawless link with the RCO's virtual communications node, proves the versatility and value of the MRTT in current and future operations."