US carrier Global Crossing Airlines (GlobalX) intends to order 50 of Eviation's in-development electric aircraft Alice.
Eviation disclosed the deal on 15 September, saying GlobalX "has signed a letter of intent ordering" the all-electric, nine passenger aircraft.
Miami-based GlobalX intends to make Alice the foundation of an envisioned carbon-neutral charter service from Florida to the Bahamas and throughout the Caribbean, Eviation says.
GlobalX expects to receive its first aircraft in 2027 and is considering future orders of an Alice model adapted to carry cargo, Eviation says.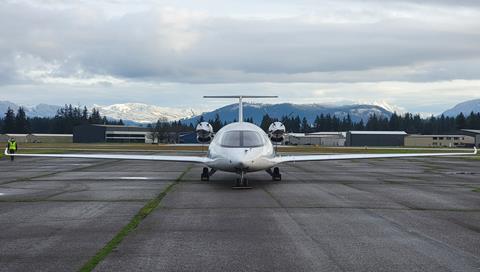 "The Alice aircraft will allow us to offer sustainable, regional flights to and from major markets, and is the first step in our initiative to be a zero-carbon-emissions airline by 2050," says GlobalX chief executive Ed Wegel.
Powered by twin 640kW (858hp) Magnix Magni650 electric propulsion systems, Alice is designed to produce zero carbon emissions. A proof-of-concept flight has yet to occur, however, as the Alice programme has run behind schedule despite repeated promises from Eviation that the first-flight milestone was imminent.
GlobalX began passenger flights in August 2021 with seven narrowbody Airbus A320s and plans to launch a cargo service in the fourth quarter of 2022.
Eviation president Gregory Davis says the deal demonstrates GlobalX's commitment to making its charter service sustainable.
"We are delighted to enter this agreement with GlobalX, whose investment in zero-emissions flight demonstrates the airline's commitment to cleaner skies, lower operational costs and the provision of the most-innovative options for air travel," he says.
Eviation and GlobalX declined FlightGlobal's request to disclose details about that "investment".
Arlington, Washington-based Eviation has also received orders for 75 Alice aircraft from US regional airline Cape Air, and for 12 from DHL.