Fledgling US carrier Global Crossing Airlines (GlobalX) lost $4.4 million during the fourth quarter of 2022 as it pursues an aggressive expansion plan.
Operating charter flights with a fleet of leased narrowbody Airbus aircraft, the Miami-based company lost roughly the same amount during the same quarter of 2021.
It generated revenue of $32.5 million during the final three months of 2022, compared with $11 million the previous year.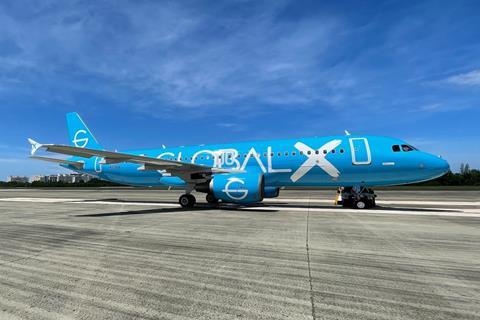 "We are pleased to report strong financial and operational results for 2022," Ed Wegel, chief executive of GlobalX, said during the company's fourth-quarter earnings call on 9 March.
The operator launched passenger flights in August 2021 using Airbus A320s. On 6 February, GlobalX received approval from the Federal Aviation Administration to begin US cargo operations with its A321F aircraft.
For the full year, the company lost $15.8 million, compared with a $19.8 million loss during a few months of operations in 2021.
GlobalX generated $97.1 million of revenue in 2022, compared with $14.3 million the previous year.
The company forecasts revenue of "at least $140 million" for 2023.
Now operating eight Airbus jets, GlobalX expects to expand its fleet to nine A320 passenger aircraft and two A321Fs within the next two months, Wegel says.
All 11 of those jets "are all on great lease terms that we were able to negotiate during the pandemic", Wegel says. "We see an extension on those favourable lease terms on the aircraft that we are bringing [into the fleet] in 2023. We believe that we still have a window of about 12 to 15 months where we can lock up aircraft – mid-life aircraft, which are the type we need."
GlobalX plans to operate 12 passenger aircraft and six freighters by the end of 2023 – and expand to 18 passenger aircraft and 12 cargo jets by the end of next year.
"This is for us very rational and sustainable growth, and this does not include an A330 widebody aircraft that we may add to the fleet," Wegel says.
The company plans to begin A330 certification early in the third quarter, with an eye on eventually operating in Hawaii and Asia.
Like many airlines, GlobalX has experienced aircraft delivery delays due to broad supply-chain issues. "Those issues are starting to improve, and we're confident that we'll be able to take aircraft on a better delivery schedule than we have seen over the past year," Wegel says.
The carrier flew 2,463 revenue block hours in the fourth quarter of 2022, an 89% increase over 2021.
GlobalX flew to 266 airports in 2022. The airline also established a charter airline to Cuba and landed contracts with the Department of Homeland Security, Customs and Border Protection and the US State Department, it says. "We have shown the government that we can fly reliably and on time and they can count on us to serve their missions," Wegel says.
It is also courting contracts with the US Department of Defense, the US Postal Service and other package carriers, Wegel says.
GlobalX recruited and trained 55 pilots in 2022 – on top of the 20 it started with – and is adding 24 more this year.
In September, GlobalX signalled its intention to order 50 of Eviation's in-development nine-passenger electric aircraft Alice, intending to make Alice the foundation of an envisioned carbon-neutral charter service from Florida to the Bahamas and throughout the Caribbean. The carrier says it plans to be Alice's launch customer "for all of Florida" in 2026.
This year, the company is also planning to build a new 7,432sq m (80,000sq ft) hangar at Fort Lauderdale-Hollywood International airport, with groundbreaking set for late in the second quarter.